Planering av barnavdelningens trädgård vid VNS
Lindholm, Susanna (2013)
---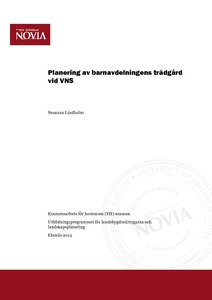 Yrkeshögskolan Novia
2013
All rights reserved
Julkaisun pysyvä osoite on
http://urn.fi/URN:NBN:fi:amk-2013121821809
Tiivistelmä
Abstrakt
Examensarbetet innehåller ett planeringsförslag till barnavdelningens gård vid Västra
Nylands sjukhus. Målet är att skapa en trivsam gård med enkla medel. Ett önskemål
från sjukhusets sida var att den sten som finns i dagensläge skulle bli kvar.
Den teoretiska delen beskriver leken och naturen, barnet i sjukhusmiljön, lekplatser
på sjukhus och kort om tidigare planeringar. Denna teori står som stöd för
planeringen. Som metoder användes landskapsplaneringens metoder, i vilken ingår
inventering, analysering och planering.
På fältbesök dokumenterades vilka problem det finns på gården och en analys på var
det är skugga och var solen skiner mest gjordes. Beställarens önskemål och visioner
tillsammans med teorin ligger som grund för planeringen.
Förbättringsförslaget som presenteras har temat användning av sinnen och
naturenlighet. En indelning av gården gjordes så att den fick tre olika delar, leka, vila
och trädgård. Dessa har alla olika karaktär och olika aktiviteter.
Abstract
This thesis contains a draft of the children's ward yard of Västra Nylands Sjukhus. The
aim is to create a pleasant yard by simple means. The hospital has requested that a
stone that is currently a part of the yards setup would be left as it is.
The theoretical part describes play and nature, the child in a hospital environment,
playgrounds in connection to hospitals, as well as previous plans briefly. The methods
consist of tools used in Landscape planning, inventories, analyses and planning.
Problems and locations of shade and exposed areas of the yard were mostly analyzed
during field visits. The client's visions and requests forms a basis for the plan.
The presented improvement proposal offers two themes; usage of senses and natural
cleanliness. The yard was divided into three zones; playground, rest area and garden.
Each of these zones have each their own characteristics and their own, different,
activities.
Kokoelmat