Inköp och förhandlingskraft i småföretag
Kvissberg, Sebastian (2014)
---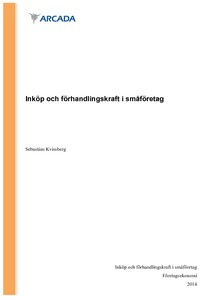 Arcada - Nylands svenska yrkeshögskola
2014
All rights reserved
Julkaisun pysyvä osoite on
http://urn.fi/URN:NBN:fi:amk-201405045683
Tiivistelmä
Detta examensarbete är en kvalitativ studie av inköp och förhandlingskraft i småföretag. Studien syftar till att studera hur inköpsprocessen fungerar i mindre företag och till vilken grad inköp prioriteras samt hur förhandlingskraften ser ut. Detta har genomförts med hjälp av kvalitativa intervjuer med personal eller ägare i fem mindre företag. Enligt studien har småföretag idag helt klart inte de bästa förutsättningarna vad gäller inköp men trots detta är det inte mycket mer än priset som är sämre jämfört med större företag. Detta kan kort förklaras i att småföretag i högre grad än större företag arbetar i förtroendefulla förhållanden med leverantörer där lojaliteten värdesätts högst. Lojaliteten till leverantörer medför att förhandlingar inte sker då de anses riskfullt för en fortsatt välfungerande relation.
Studien påvisar dessutom att maktförhållandet mellan större leverantör och mindre företag jämnas ut på grund av småföretags ofta goda läge och rykte på hemma marknaden. På grund av detta anser småföretag att inte heller större företag försöker att förhandla då även de är måna om långvariga förtroendefulla relationer.
Inköp fungerar enligt denna studie på ett enkelt sätt där långa relationer till leverantörer lett till att beställningar sker med hjälp av telefon eller internet när behov uppstår. Kontrakt är muntliga och det största kravet på leverantörer är att de förser det mindre företaget med varor av god kvalitet.
This thesis is a qualitative study of purchasing and bargaining power in small businesses. The study aims to study how the purchasing process works in small businesses and to what extent the purchasing process is prioritised. It also wants to investigate how the negotiation power looks like. This has been done by qualitative interviews with staff or the owners of five small businesses. According to the study, small businesses today do not have the best conditions in terms of purchasing but despite this, it is not much more than the price that is worse in comparison to larger businesses. This can be briefly explained by that small businesses to a greater extent than larger companies are operating in trusting relationships with suppliers where loyalty is valued most. Loyalty to suppliers causes that negotiations do not take place because they are considered risky for the continued well-functioning relationship.
The study also demonstrates that the power relationship between major suppliers and small businesses levels out because small firms often possess a good location and reputa-tion in the domestic market. Because of this, small businesses feel that neither larger companies try to negotiate because they are also committed to long-term relationships of trust.
Purchasing works according to this study in a simple way in which long-term relationships with suppliers lead to orders made by telephone or internet when the need arises. Contracts are not written and the biggest requirement of small businesses is that the sup-pliers provide them with products of good quality.
Kokoelmat