ShowerMagic : A Hygienic and Eco-Efficient Real Time Greywater Reuse System for Showers
Selvarajan, Jason; Holland, Keiran (2013)
---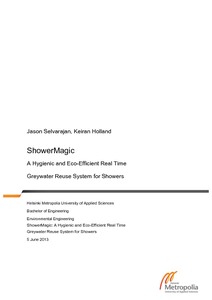 Selvarajan, Jason
Holland, Keiran
Metropolia Ammattikorkeakoulu
2013
All rights reserved
Julkaisun pysyvä osoite on
http://urn.fi/URN:NBN:fi:amk-201405219019
Tiivistelmä
ShowerMagic is a water purification system designed to reduce the ecological impact of showers by filtrating, sterilizing and recirculating shower water in real time, thus significantly reducing the amount of water and energy required to enjoy a warm shower. The purification system relies on a sand and granular activated carbon filter to remove particulates, suspended solids as well as organic and inorganic compounds and to reduce turbidity. After this, an ultraviolet irradiation reactor is used to disinfect bacteria that may be present in the water to ensure clean, safe and ecological showering.
A 22 factorial design was conducted to model and optimize the height and width dimensions of the sand and granular activated carbon filters. Each treatment method is tested individually with a specified contaminant simulating concentrations of domestic grey water. Removal efficiency was over 98 % for particulates in the form of quartz sand, 92 % for suspended solids in the form of mineral clay in the largest filters, and a log 5 reduction was seen in Escherichia coli bacteria concentrations, even with turbidity values 10 greater than normal. Water quality was improved further over time with water recirculation and by combining all treatment methods. Ammonium hydroxide used to simulate inorganic compounds had conflicting results with removal efficiency around 50 %. Based on the test prototype it is proposed that a shower consuming only 10 L of water is possible which is the equivalent of 1 minute of normal showering time.
With increasing water scarcity, greenhouse gas emissions and a growing global population, the strain on resources is greater than ever before. ShowerMagic offers a viable solution for reducing our impact on the environment while still enjoying our morning rituals.
ShowerMagic on vedenkäsittelyjärjestelmä, joka on suunniteltu parantamaan suihkujen ekologista jalanjälkeä. ShowerMagic puhdistaa ja kierrättää suihkuvettä realiajassa joka huomattavasti vähentää tarvittavan käyttöveden määrää, tämän seurauksena myös lämmitysenergian tarve laskee huomattavasti. Vedenkäsittelyjärjestelmä hyödyntää hiekka- ja aktiivihiilisuodattimia hiukkasien, kiintoaineiden sekä orgaanisien ja epäorgaanisien yhdisteitä poistamisessa ja veden sameuden alentamisessa. Ultraviolettidesinfioinnilla varmistetaan, että pesuvesi on desinfioitu, eli turvallista käyttää.
Tutkimuksessa käytettiin 22-analyysimallia mallintamaan ja optimoimaan suodattimien leveyttä ja pituutta. Jokaista puhdistusmenetelmää tutkittiin yksittäisesti simuloimalla suihkujen harmaanveden epäpuhtausmääriä. Kvartsihiekan hiukkasia alennettiin 98 % hiekkasuodattimella, 92 % sameutta simuloivista mineraalisavikiintoaineista poistettiin aktiivihiilisuo- dattimella ja Escherichia coli -bakteerikantoja alennettiin 5-suhdanteen logaritmiin ultravioletti desinfiointilaitteella jopa silloin, kun sameus oli 10 kertaa suurempi kuin yleensä. Veden laatu nousi, kun vedenkäsittelyjärjestelmä kierrätti veden käyttämällä kaikkia menetelmiä samanaikaisesti. Ammoniumhydroksidia (NH4) käytettiin simuloimaan epäorgaanisia yhdisteitä. Tällöin poiston tehokkuus oli noin 50 %.
Prototyyppikokeiden tuloksista on laskettu, että on mahdollista valmistaa suihku, joka käyttää vain 10 litraa vettä ja antaa käyttäjän nauttia vedestä niin kauan kuin hän haluaa. Suihku käyttää vesi- ja energiamäärää, joka vastaa noin 1–2 minuuttia normaalista suihkuttamisajasta. Veden- ja energiankäytön vuosittainen lisääntyminen, kasvava väkiluku ja muut ympäristöhuolet rasittavat maapalloa. ShowerMagic tarjoaa ekologisen ja kannattavan vaihtoehdon peseytymiselle.
Samankaltainen aineisto
Näytetään aineisto, joilla on samankaltaisia nimekkeitä, tekijöitä tai asiasanoja.
Matviichuk, Elena

(

Kajaanin ammattikorkeakoulu

,

2016

)

Chile has a status of Latin American reference of progress with mining being the key economic activity. Despite rapid economic growth and high standards of life, water quality in the country is highly affected by mining. ...

Nguyen, Anh

(

Satakunnan ammattikorkeakoulu

,

2017

)

The purpose of this thesis was to study the essential factors, which determine the surface water qualities, more emphasizing Eurajoki river water. Particularly, this thesis focused on the humus removal and optimization of ...

Malinen, Essi

(

Lahden ammattikorkeakoulu

,

2015

)

This thesis deals with the development of water protection in the city of Lahti from the 1970s until the present. The objective was to collect information about the water protection of both surface waters and groundwater. ...