Hur skall man bygga en effektiv intern webbportal? : En utredning beställd av yrkeshögskolan Arcada
Storgårds, Daniel (2014)
---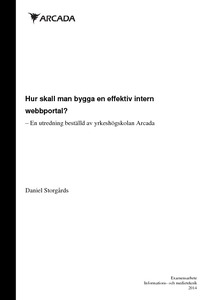 Arcada - Nylands svenska yrkeshögskola
2014
All rights reserved
Julkaisun pysyvä osoite on
http://urn.fi/URN:NBN:fi:amk-201405229265
Tiivistelmä
Examensarbetet behandlar problem som upplevs på yrkeshögskolan Arcadas interna webbportal ur både användarnas och utvecklarnas synvinkel. Alternativa innehållshanteringssystem har utretts och delvis testats för att komma underfund med vilket innehållshanteringssystem som kunde användas för att implementera en ny intern webbportal för personalen. Krav för en ny intern webbportal har samlats in. Arbetet behandlar också centrala delar i implementeringsskedet och i slutet av arbetet ges en rekommendation för ett innehållshanteringssystem. Intervjuer, litteraturstudier, testning och diskussioner har varit huvudsakliga metoderna i arbetet.
Den nuvarande interna webbportalen kan inte användas på lång sikt p.g.a. att den inom en snar framtid upphör att få säkerhetsuppdateringar. Dessutom upplever användare att webbportalen fungerar långsamt och det är svårt att hitta relevant innehåll. Examensarbetet har resulterat i en lista på krav samt en preliminär innehållsstruktur, vilka kan användas när projektet förverkligas. Centrala delar i implementeringsskedet är överföring av data och funktionalitet. Det rekommenderade innehållshanteringssystemet för en ny intern webbportal är Drupal 7, tack vare att det uppfyller en stor del av kraven och för att Arcada sedan tidigare arbetat med Drupal.
This thesis work addresses the problems experienced with the internal web portal at Arcada - University of Applied Sciences, from both the user's and developer's point of view. Alternative content management systems have been investigated and partially tested and requirements have been collected to find out which content management system could be used to implement a new web portal. The thesis also discusses the central parts in the implementation phase. At the end a recommendation on a content management system is given. Interviews, literature studies, testing and discussions have been the main methods in the thesis work.
The current internal web portal can't be used in the long term since the content management system in the near future will stop to receive security updates. The users also experience that the web portal is functioning slowly and that it is hard to search for relevant content. This work has resulted in a list of requirements as well as a preliminary content structure, which can be used when the project is implemented. Central parts in the implementation phase, such as migration of data and functionality, have been described. The recommended content management system for a new internal web portal is Drupal 7, since it meets most of the specified requirements and because Arcada has experience in using the content management system Drupal.
Kokoelmat