Bladgödsling med mangan vid högt mark pH
Helenelund, Daniel (2014)
---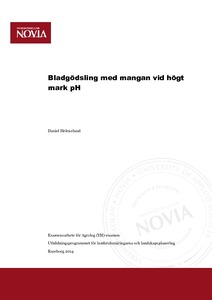 Yrkeshögskolan Novia
2014
All rights reserved
Julkaisun pysyvä osoite on
http://urn.fi/URN:NBN:fi:amk-201405198655
Tiivistelmä
Abstrakt
Mangan är ett växtnäringsämne som främst har betydelse för fotosyntesen, proteinomsättningen och nitratreduktionen. Mangan gynnar även rottillväxten och påverkar höstgrödornas vinterhärdighet. Hos spannmål yttrar sig brist på mangan i form av små ax, dålig kärnutveckling och svagt strå. Bland spannmålsslagen är havre mest känsligt, följt av korn, vete och råg. Odlingsväxterna kan lida brist på mangan som följd av en låg koncentration av mangan i marken men vanligare är att bristen uppstår som följd av att mangan fastläggs i för växterna otillgängliga former. Mangan fastläggs i marken vid ett högt pH-värde och vid intensiv syresättning. I sådana fall är bladgödsling med mangan det enda sättet att häva en manganbrist.
Till grund för detta arbete ligger ett fältförsök som syftade till att undersöka vilka effekter på avkastningen en respektive två manganbladgödslingar har hos vårvete vid odling på mullrika jordar med höga pH-värden. Arbetets hypotes var att en upprepad tillförsel av mangan ökar växtens manganupptag och därmed även avkastningen.
I det försöksled som bladgödslades två gånger med mangan gav vårvetet en 6,4 % högre biomassaskörd än i det led som bladgödslades en gång. Eftersom manganbladgödsel i dagsläget är ett förmånligt insatsmedel är det således på fält med konstaterad stor manganbrist värt att överväga flera behandlingar.
Summary
Manganese as a plant nutrient is important for the photosynthesis, protein synthesis and the reduction of nitrate. Manganese benefits the root growth and affects the winter hardiness of winter crops. In cereals manganese deficiency appears as small spikes, poor seed development and a weak straw. Among cereals oats is the most sensitive followed by barley, wheat and rye. The plants may be short of manganese because of low manganese concentration in the soil, but a more common reason is the reduction of manganese that causes low availability of manganese for the plants. The reduction of manganese is caused by high pH conditions and a good supply of oxygen. In such cases foliar application of manganese is the only way to terminate a manganese deficiency.
The basis for this work is a field trial designed to investigate what kind of yield effects one or two foliar applications of manganese has on spring wheat raised on soils with high organic content and high pH conditions. The hypothesis of this trial was that a repeated supply with manganese increases the uptake of manganese and thereby also the yield.
The spring wheat gave 6,4 % higher biomass yield in the treatment which was foliar applicated with manganese twice than the one which was treated with only one foliar application. Since manganese fertilizer currently is favorable is it thus worth considering several treatments on fields with a confirmed major manganese deficiency.
Kokoelmat