Planering av Såka skolgård som en pedagogisk resurs i en stimulerande miljö
Von Wendt, Jari (2014)
---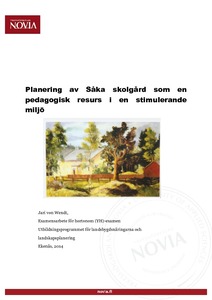 Yrkeshögskolan Novia
2014
All rights reserved
Julkaisun pysyvä osoite on
http://urn.fi/URN:NBN:fi:amk-201405218967
Tiivistelmä
Examensarbetets grund ligger i en beställning av en planering av en skolgård. Beställaren, Hem och Skola rf i Såka, ville ha en utvecklingsplan för etappvis färdigställande av skolgården. Målet var att skapa en stimulerande och inspirerande skolgård som är säker och estetiskt tilltalande.
Teoridelen redogör för skolgårdar och skolträdgårdar samt skolgångens historia i Österbotten. Målsättningen har också varit att underlätta följandet av uppställda läroplaner, speciellt i biologi, för riket och för Karleby stad. Arbetet redogör senare för olika läror om lärandet och dess förutsättningar, med en närmare blick på några skolor som bedriver stor del av sin undervisningsverksamhet utomhus. Vidare redogörs för lekens, motorikens och stimulansens betydelse i lärandeprocessen.
För att klargöra omedvetna önskningar, anordnades en enkät för eleverna och en för lärare och föräldrar. Resultaten av dessa, tillsammans med dokumentation av elevernas rörelser på gården, intervjuer och noggrann inventering av gården och dess skick, fick stå som grund för själva planeringen. Planeringen följer rekommendationer och styrdokument uppställda av myndigheter.
Resultatet av processen blev en kuperad och tredimensionell skolgård som inspirerar till lek, lärande och upptäckande, samtidigt som den inbjuder till rörelser som ofta glöms bort i en stillasittande miljö som skolan utgör. Allt förpackat i en estetiskt tilltalande helhet, enligt gällande och historiska ideal.
The basis for this thesis is in an order by the parent association in the school of Såka in Karleby. They wanted a plan for step by step development of their school playground. The aim for this planning was to create a stimulating and inspiring schoolyard that is both safe and aesthetical.
The theoretical part of the thesis describes the schoolyards and -playgrounds in Ostrobothnia from a historical point of view. The aim for the thesis has also been to enable the education in biology in general at the school in Såka. The thesis also gives an account of different didactic methods in different times by different pedagogues with a closer look at some schools dedicated to this type of education in the outdoors. The importance of stimuli, play and motor skills in the learning process is also explained.
To clarify any subconscious wishes of the pupils and/or the teachers, a survey was carried out, one for pupils and one for parents and teachers. The results of these, together with other documentation like the pupils´ movement on the yard and thorough examination of the yards´ shape and condition formed the basis for the planning itself. The planning of the schoolyard complies with the rules set up by different authorities.
The result is a three-dimensional playground that inspires to play, learn and explore at the same time as it invites to movements and motions often neglected in a sitting environment such as the school. All this forms an aesthetical whole, in compliance with valid, historical ideals.
Kokoelmat