Kupningstidpunktens inverkan på potatisens kvalitet och skörd
Lillgäls, Jonas (2014)
---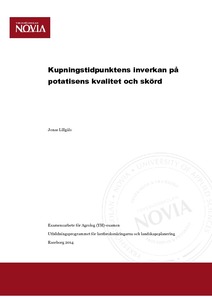 Yrkeshögskolan Novia
2014
All rights reserved
Julkaisun pysyvä osoite on
http://urn.fi/URN:NBN:fi:amk-201405219141
Tiivistelmä
I matpotatisodling beaktas både den totala skördemängden per hektar samt mängden sorteringsavfall som uppstår när potatisen senare säljs vidare till packerier. I teoridelen av detta examensarbete presenteras de vanligaste använda kupaggregaten, även de vanligaste yttre kvalitetsfel som kan motverkas med kupformning presenteras. Kupningen av potatisbänkarna har stor inverkan på skördens yttre kvalitet, speciellt förekomsten av vanlig skorv och grönfärgning.
Till detta examensarbete gjordes även ett växtodlingsförsök i vilket man jämförde två olika kupningstillfällen: direkt efter sättning och senare efter att blasten börjat sticka upp ca 10 cm ur potatisbänken. I växtodlingsförsöket kupades bänkarna med en kupformare. Försöket utfördes under sommaren 2013 i Kristinestad.
Hypotesen var att de tidigare kupade försöksrutorna skulle ge mindre förekomst av vanlig skorv samt större skörd. Detta på grund av de positiva egenskaperna som tidig packning av bänkarna har på kapillärkraften i marken. Resultatet visade dock i detta fall att den senare kupningen gav aningen godare resultat på både skördemängd och förekomst av yttre kvalitetsfel.
In potato cultivation both the total harvest per hectare and the amount of potatoes being thrown away in the packing process, is taken into account. In the theoretical part of this thesis, the most commonly used hillers and general external quality defects that can be prevented by hilling, are presented. Hilling of the potato drills has a big impact on the harvest quality, reducing especially the occurrence of common scab and greening.
In a field test carried out for this thesis, two different times of hilling were compared: hilling directly after the potatoes had been planted and hilling when the potato haulm had reached a height of about 10cm. In the test the drills where hilled by a shaping hiller. The test was realized in the summer of 2013 in Kristinestad.
The hypothesis was that the earlier hilled plots, would yield better and reduce the incidence of common scab. Due to the positive impact that early hilling has on the capillarity in the soil. However, in this case the results show that the later hilled plots yielded slightly better, and common scab occurred to a less extent.
Kokoelmat