Potential of microalgae for biofuel : An experimental study on the effects of light irradiance and photoperiod on the growth rate and lipid content in microalgae Phaeodactylum tricornutum
Regmi, Bhawani (2014)
---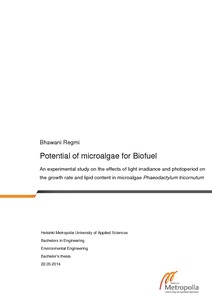 Metropolia Ammattikorkeakoulu
2014
All rights reserved
Julkaisun pysyvä osoite on
http://urn.fi/URN:NBN:fi:amk-2014060311503
Tiivistelmä
Microalgae appear as an alternative source of biofuel due to their oil content, metabolic flexibility, ability to grow in non-arable land and their ability to use fertilizers with 100% efficiency. To make the biodiesel production from microalgae more feasible and economical, several features of microalgae has to be studied. Illumination factors such as photoperiod and irradiance can significantly affect the growth and lipid content in microalgae. To optimize the growth and lipid content in a microalgae culture system, the effects of light irradiance and photoperiod on the growth, biomass productivity and lipid content were studied in a batch culture under controlled laboratory conditions.

The study was divided into two discrete sets of experiments. In the first experiment, P. tricornutum was cultivated under four fixed irradiance levels 400, 180, 40, and 20 µmol∙q∙m-2∙s-1 at six different day lengths 4,8,12,16,20,and 24 h. The growth rate and lipid content were observed at the exponential phase. Growth rates were found to be higher at a photoperiod of 20 h at irradiance level of 400 µmol∙q∙m-2∙s-1, while the lowest were observed at a photoperiod of 4h. A phenomenon of photoinhibition was also observed at a photoperiod of 24 h. In the second experiment, two reasonably higher and lower growth rates and light levels were chosen and the species were cultivated in nutrient-depleted medium. The growth rates and variation in lipid content were studied at the stationary phase. Moreover, a lipid growth model was made in R to check the effects of light irradi-ance and photoperiods at the exponential and stationary phase. The lipid production was found to favor the longer photoperiod and higher irradiances only at the stationary phase.

The results obtained from this study will help in modeling and evaluating the growth of microalgae at varying light intensities and photoperiods in different locations around the globe. In addition, the results will also provide basic understanding of the production limits globally.