Amning och stress : En litteraturstudie
Röman, Pernilla; Sjöblom, Amporn (2014)
---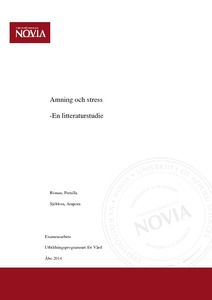 Röman, Pernilla
Sjöblom, Amporn
Yrkeshögskolan Novia
2014
All rights reserved
Julkaisun pysyvä osoite on
http://urn.fi/URN:NBN:fi:amk-2014060511984
Tiivistelmä
Detta examensarbete om amning och stress är gjort som ett delprojekt inom projektet Familjehuset. Delprojektet Amning utan stress – tidigt familjecentrerat amningsstöd görs på beställning av Folkhälsans Förbund r.f. Syftet med arbetet är att bidra med resultat som kan stöda mammor att "amma utan stress". Genom ökad kunskap om olika samband mellan amning och stress kan man vidta åtgärder för att förebygga och lindra stress hos ammande mödrar.
Arbetet görs som en litteraturstudie. Som material har vi använt vetenskapliga forskningsartiklar och litteratur. Materialet har bearbetats genom innehållsanalys. Frågeställningar som vi söker svar på genom litteratursökning är vilka eventuella långvariga konsekvenser kan olika stresstillstånd ha för mor och barn; vilka olika stressfaktorer förekommer i samband med amningen och hur kan amning påverka stressupplevelsen; samt vad kan vårdpersonal och anhöriga göra för att stöda ammande mödrar?
Vi har kommit till att de flesta nyblivna mammorna upplever stress i vardagen. Den första tiden med en baby i familjen upplevs ofta som stressande, och mammor lider ofta av rollkonflikter. Stress hos mammor kan ge långvariga konsekvenser hos både mammor och barn genom stresshormoner som överförs i bröstmjölk. Amning kan å andra sidan lindra stress. Pappor, vårdpersonal och andra stödpersoner spelar en viktig roll när det gäller förebyggande av stress. Förebyggande åtgärder kan vara tidig och tillräcklig information, handledning och hjälp i vardagen.
This thesis on breastfeeding and stress is a part of the Familjehuset project. Breastfeeding without stress - Early family centered breastfeeding support is one of the subprojects ordered by the Folkhälsan foundation. The purpose of this study is to contribute with results to support mothers to "breastfeed without stress". Healthcare professionals can take measures to prevent and relieve stress in breastfeeding mothers by increased knowledge about the different associations between breastfeeding and stress.
This study is a literature review, based on material from scientific research articles and literature. The material has been processed using content analysis. Issues that we are looking to answer through literature search are; What possible long-term consequences can various stress conditions cause for mothers and babies; What different stress factors are involved in breastfeeding and how can breastfeeding affect stress experience; and what can healthcare professionals and loved ones do to support breastfeeding mothers?
We have found that most new mothers experience stress in their daily lives. The first months with a baby in the family is usually perceived as stressful, and mothers often suffer from role conflicts. Stress in mothers may cause lasting consequences in both mothers and children through stress hormones transferred to breast milk. Breastfeeding may, on the other hand, relieve stress. Fathers, healthcare professionals and other support persons play an important role in the prevention of stress. Early and adequate information, instruction and help in everyday life are suitable preventive measures.
Kokoelmat