How to build successful city brands? - Case Zurich, Geneva, Stockholm, Helsinki
Renko, Jenna; Hyytiäinen, Sonja (2014)
---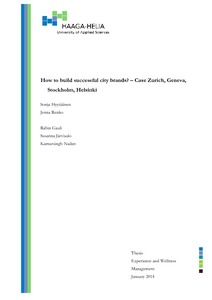 Renko, Jenna
Hyytiäinen, Sonja
HAAGA-HELIA ammattikorkeakoulu
2014
Julkaisun pysyvä osoite on
http://urn.fi/URN:NBN:fi:amk-2014061112654
Tiivistelmä
This thesis surveys the success of the branding processes in four case cities. It aims at finding successful managerial competences needed in city branding. This thesis is a portfolio that consists of theoretical framework and an empirical section. The theoretical framework is divided to three parts. The first part talks about the concept of branding. The second part focuses on brand management and the last chapter discusses about the concept of place branding.

This thesis is part of a larger study that consists of 14 separate case studies. In this thesis' empirical part four separate case studies are presented. These case studies represent an overview of branding in Zurich, Geneva, Stockholm and Helsinki. In each case study the current brand of the city is presented and the planning, implementation and monitoring processes are viewed. In each city the respondents also discuss about key competences required in place branding.

Finally, the results are analysed in the comparison section. The main similarities and differences in all four cases are compared to each other by demonstrating with tables.

The study was based on qualitative research method. First, an interview was conducted to eight decision makers responsible for the branding in the case cities. All the interviews were collected within three years, during 2011-2013. The interviews were collected by travelling to the destinations and using structured pre-prepared questionnaire. Second, the results were transcribed, coded and analysed. Finally, a case study for each city was written based on the interviews and already existing relevant data.

Mostly the cities differed from each other but some similarities between all of them could be identified and it was possible to even make generalizations. Two competences (creating right strategy and finding key persons) and one challenge (taking many stake-holders' opinions into account) were mentioned by all the cities.