Professionellt vårdbedömningsarbete per telefon : En empirisk studie om vilka faktorer som bidrar till ett professionellt vårdbedömningsarbete per telefon inom primärvården
Backholm, Ann-Charlotte (2014)
---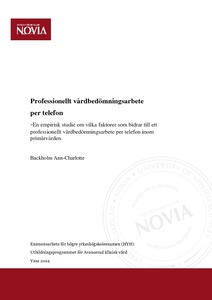 Yrkeshögskolan Novia
2014
All rights reserved
Julkaisun pysyvä osoite on
http://urn.fi/URN:NBN:fi:amk-2014060311493
Tiivistelmä
Syftet med studien var att synliggöra vilka faktorer som bidrar till ett professionellt vårdbedömningsarbete, för att utveckla vårdbedömningsarbetet per telefon inom primärvården. Frågeställningen för studien var: Vilka faktorer bidrar till ett professionellt vårdbedömningsarbete per telefon? På vilket sätt kan vårdbedömningsarbetet utvecklas?
Metoden är inspirerad av aktionsforskning med både kvantitativ och kvalitativ ansats. För att få ett heltäckande resultat användes tre olika datainsamlingsmetoder i studien. Först statistikfördes hur vårdkontakter hänvisades. Vårdare med vårdbedömningsuppgifter fick därefter svara på frågor i ett frågeformulär angående vårdbedömningsarbete per telefon. Vidare genomfördes intervjuer med anställda inom organisationen i ledande befattning. Data analyserades med deskriptiv statistisk metod och innehållsanalys. Utifrån resultatet utformades en modell som belyser vilka faktorer som bidrar till ett professionellt vårdbedömningsarbete. Som utvecklingsarbete utformades ett kommunikationsverktyg med syfte att få ett mera strukturerat och enhetligt arbete vid vårdbedömningen. Kommunikationsverktyget utvärderades av både vårdare och ledningen inom organisationen och utformades därefter vidare.
Resultatet av studien visar att vårdbedömningsarbetet är krävande och att det ibland är svårt att avgöra svårighetsgraden enligt de symtom som beskrivs av den vårdsökande. Vårdarens kompetens och arbetserfarenhet är klart avgörande för vårdbedömningens kvalitet. Vårdarens personlighet har även stor betydelse i kommunikationen med den vårdsökande.
The aim of the study was to highlight the factors that contribute to professional health assessment work, in order to develop health assessment work by telephone in primary care. The research questions for this study ware: What factors contribute to professional healthcare assessment work by phone? How can the health assessment process be developed?
The method was inspired by action research, with both a quantitative and qualitative approach. To get comprehensive results, three different data collection methods were used in this study. First statistics were collected about how the patients were referred. Nurses working with healthcare assessment tasks also filled in a questionnaire regarding health assessment work by telephone. Thereafter interviews with leading employees within the organization were conducted. Data were analyzed using descriptive statistical methods and content analysis. Based on the findings a model was designed that highlights the factors that contribute to the professional healthcare assessment work. A developmental communications tool was designed with the aim of getting a more structured and uniform work in health assessment. The communication tool was evaluated by both nurses and the management within the organization and thereafter designed into the final format.
The results of the study show that health assessment work is demanding and it is sometimes difficult to determine the severity according to the symptoms described by the care-seekers. The skills and work experience of the nurses is clearly decisive for the health assessment quality. The personality of the nurses also has an important role in communicating with the care-seekers.
Kokoelmat