Consumer´s product perceptions and the impact of advertising on product images : case Mieleinen honey product
Honkaniemi, Marja (2014)
---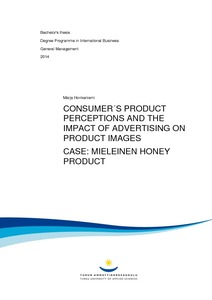 Turun ammattikorkeakoulu
2014
All rights reserved
Julkaisun pysyvä osoite on
http://urn.fi/URN:NBN:fi:amk-2014092514192
Tiivistelmä
This thesis focuses on consumer´s product perceptions and the impact of advertising on product images. This research was carried out for Hunajayhtymä, in order for them to find out the consumer perception of their honey product "Mieleinen", the communication effect of their advertisement campaign and if they reached the objectives of their advertising campaign. The purpose of the research was also to come up with development ideas for their future advertisement campaigns.
The focus of this thesis is mostly on communication effectiveness of advertising, since sales information is already known by the company. The situation at a targeted market was also investigated, in order to know the factors that affect honey product perceptions of Hunajayhtymä´s potential consumers. This information could help Hunajayhtymä reach potential consumers more effectively through advertising. The theoretical context of the thesis mainly discusses advertising and factors which affect consumer´s product perceptions and product images. The research in the thesis was based on quantitative approach including some qualitative elements. The data was collected by carrying out a structured interview questionnaire, which included a few open-ended questions.
The study revealed that consumer´s own internal factors such as values, experiences, beliefs, moods, attitude, needs and expectations have an impact on product perceptions. Most of the respondents thought that the domestic origin is more important than the price, when buying honey products. According to the results and the literature review also a structure of honey, packaging, health promoting factors, brand and naturally taste and price-quality ratio matter, when buying honey products and therefore they affect the perception of honey products as well. The respondents had a neutral or a quite positive perception of the product, whether they had heard the advertisement or not. However the perceptions of the product received better average in all categories within the respondent group, who had heard the advertisement. All in all the results indicated that the advertisement succeeded to support earlier formed images and perceptions about the company´s products. On the other hand according the results, there are also room for improvement; communication effectiveness of Hunajayhtymä´s advertising and some product images that the consumers formed of the product could be improved.
Tämä opinnäytetyö keskittyy kuluttajan tuotekäsityksiin ja mainonnan vaikutukseen suhteessa tuotemielikuviin. Tämä tutkimus suoritettiin Hunajayhtymälle, jotta he saisivat selville kuluttajan käsityksen hunajatuote "Mieleisestä" ja heidän mainontakampanjansa viestinnän tehokkuuden sekä kampanjan tavoitteiden saavuttamisen. Tutkimuksen tarkoituksena oli myös luoda kehitysideoita tulevia mainoskampanjoita varten.
Tässä opinnäytetyössä keskitytään pääosin mainonnan viestinnän tehokkuuteen, sillä yritys saa tietoa myynnistään tarvittaessa. Myös tilannetta kohdemarkkinoilla tutkittiin, jotta tiedettäisiin, mitkä tekijät vaikuttavat Hunajayhtymän potentiaalisten kuluttajien hunajatuotekäsityksiin. Tämä tieto voi auttaa Hunajayhtymää tavoittamaan potentiaaliset kuluttajat entistä tehokkaammin mainonnan kautta. Opinnäytetyön teoreettinen viitekehys käsittelee mainontaa ja tekijöitä, jotka vaikuttavat kuluttajan tuotekäsityksiin ja tuotemielikuviin. Tutkimus perustui kvantitatiiviseen lähestymistapaan sisältäen myös laadullisia piirteitä. Aineisto kerättiin suorittamalla strukturoitu haastattelu kyselylomakkeella, joka sisälsi muutamia avoimia kysymyksiä.
Tutkimuksesta ilmeni, että kuluttajan omat sisäiset tekijät kuten arvot, kokemukset, uskomukset, mielialat, asenne, tarpeet ja odotukset vaikuttavat heidän tuotekäsityksiinsä. Suurin osa vastaajista oli sitä mieltä, hunajatuotteita ostettaessa kotimaisuus on tärkeämpää kuin hinta. Tulosten sekä kirjallisuuskatsauksen mukaan myös hunajan rakenteella, pakkauksella, terveyttä edistävillä ominaisuuksilla, brändillä ja luonnollisesti maulla ja hinta-laatusuhteella on merkitystä hunajatuotteita ostaessa ja siksi ne vaikuttavat käsityksiin hunajatuotteista. Vastaajilla oli neutraali tai melko myönteinen käsitys tuotteesta huolimatta siitä olivatko he kuulleet mainoksen vai eivät. Kuitenkin tuotekäsitykset olivat parempia kaikissa vastaajakategorioissa, jotka olivat kuulleet mainoksen. Kaiken kaikkiaan tulokset osoittivat, että mainos onnistui tukemaan aikaisemmin muodostuneita mielikuvia ja käsityksiä yrityksen tuotteista. Toisaalta tulosten mukaisesti löytyi myös parantamisen varaa. Hunajayhtymän mainonnan viestintätehokkuutta ja joitakin tuotemielikuvia, jotka kuluttajat muodostivat, voitaisiin tulevaisuudessa kehittää.
Kokoelmat
Samankaltainen aineisto
Näytetään aineisto, joilla on samankaltaisia nimekkeitä, tekijöitä tai asiasanoja.
Kokko, Lauri

(

Turun ammattikorkeakoulu

,

2013

)

This thesis is about a finnish SME based in Turku. A company called Emerbus. The company was founded in the year 2011 after selling an excisting company owned by the founders of Emerbus. The company is now 2 years old and ...

Paliy, Oleg

(

HAAGA-HELIA ammattikorkeakoulu

,

2012

)

Companies whose core business revolves around development and the launch of new products are facing the challenge that the majority of new products fail on the market-place. Product failures in high-tech industry is actually ...

Sjöberg, Rasmus

(

Yrkeshögskolan Arcada

,

2017

)

This is a case study, that researches the methods for cost effective productions with low cost camera gear. In this case study I will try to find out, if video production companies can produce short promotional videos in ...