Beskattningen av aktiebolag och dess ägare
Rikberg, Thomas (2014)
---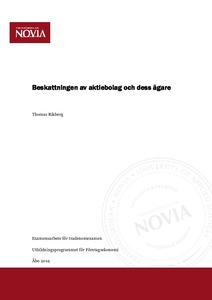 Yrkeshögskolan Novia
2014
All rights reserved
Julkaisun pysyvä osoite on
http://urn.fi/URN:NBN:fi:amk-2014091013855
Tiivistelmä
Detta arbete består av tre huvuddelar, beskattningen vid kontinuerlig verksamhet, beskattning vid förändringar i ägarstrukturen samt en undersökning med en ägare och med en i ägarfrågor insatt jurist. Den kontinuerliga verksamhetens beskattning består av beskattningen av dividender och beskattningen av aktiebolaget.
I Finland görs det skillnad i beskattningen ifall aktiebolaget är börsnoterat eller ej. Ägandet i onoterade aktiebolag räknas som företagande och uppmuntras därigenom med lägre beskattning, medan ägande av börsbolag ses som en placering och har en högre beskattning på dividender. I arbetet har presenterats hur kapitalbeskattningen ser ut år 2014. Förändringen i samfunds- och kapitalbeskattningen som trädde i kraft från och med början av 2014 har presenterats i arbetet och jämförts med året innan.
För speciellt familjeföretag är förändringar i ägarstrukturen ofta omvälvande. Jag har granskat vilka skatter som påverkar vid ägarstrukturs förändringar. För att minska skattebördan är det vanligt med skatteplanering.
Den empiriska undersökningen i examensarbetet består av två intervjuer. Den ena med Christian Hallberg som är ägarrepresentant för familjeföretaget Paulig Ab. Den andra intervjun i undersökningen är gjord med jurist Berndt Heikel som här presenterar en allmän syn på ägandet i familjeföretag.
This thesis comprises three main parts, the taxation on continuing operations, taxation on changes in the structure and a study with an owner and a lawyer versed in issues of ownership. The continuous operation of taxation consists of the tax treatment of dividends and the taxation of limited liability company.
In Finland, there is a difference in taxation if the company is listed or not. The ownership of unlisted public limited company counts as entrepreneurship and encouraged thereby lower taxation, while ownership of listed companies is seen as an investment and have a higher taxation on dividends. In the work I present how capital taxation looks like in year 2014. Changes in communities and capital taxation in force from the beginning of 2014 has been presented in the work and compared with the previous year.
For particularly family businesses changes in the structure are often critical. I have reviewed the taxes that affect on owner structure changes. In order to reduce the tax paying it is common with tax planning.
The empirical study in the thesis consists of two interviews. One with Christian Hallberg who is the owner's representative for the family business Paulig Ltd. The other interview in the survey is made with lawyer Berndt Heikel that presents a general approach to ownership in family businesses.
Kokoelmat