Generation Y in Germany – A change in knowledge about nutrition and eating behavior
Kraft, Konstantin (2014)
---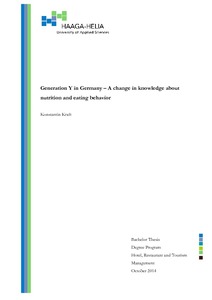 HAAGA-HELIA ammattikorkeakoulu
2014
All rights reserved
Julkaisun pysyvä osoite on
http://urn.fi/URN:NBN:fi:amk-2014103115122
Tiivistelmä
The aim of the thesis is to discover on one side the eating behavior of Generation Y and on the other side their knowledge about nutrition. In addition to that the thesis find a connection between both.

Nutrition is the science of the nutrients in food. Nutrients are daily needed by the body to keep up all bodily related processes. Nutrients can be grouped into energy providing nutrients and non energy providing nutrients. The nutrition also refers to the nutrient value of the food. At the end of the nutrition chapter, there will be guidelines for a healthy and balanced diet.

Generation Y consists of people born between the years 1980 and 2000. This generation is characterized by various influences such as globalization, of technology and brand growth. The hierarchy of needs by Maslow will underline the needs of this generation and will demonstrate the high need of health awareness. A big fragment of the health awareness is nutrition.

In order to understand the knowledge and eating behavior, quantitative research was conducted. The target group of the thesis is the Generation Y in Germany. The questionnaire is divided into three segments. The first segment is to gather basic information, the second segment is a quiz about nutrition and the third part is to understand the eating behavior. The questionair has been distributed on social media over ten days (01.10.2014 – 10.10.2014) and the number of responses is 109.

The Generation Y strives for health. For this reason the health awareness of this generation is higher than in all generations before. The Generation Y tries to find the perfect work life balance and to improve the individual well-being. Nutrition naturally plays a big role in the procedure of fulfilling the needs of health awareness. It can be clearly recognize that there is a connection between knowledge about nutrition and eating behavior. This can be the advice for this generation that they have to start to know more about nutrition, which help them to fulfill the need of health awareness.