Betydelsen av receptionisternas språkkunskaper för kundservicen : Fallstudie: Hotell Scandic Plazas reception
Kokko, Kaisa (2014)
---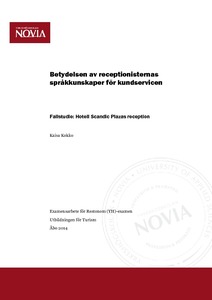 Yrkeshögskolan Novia
2014
All rights reserved
Julkaisun pysyvä osoite on
http://urn.fi/URN:NBN:fi:amk-2014111115469
Tiivistelmä
Lyckad kundservice är grunden för företagets framgång och dess betydelse kan inte ignoreras. När främmande språk kommer in i bilden blir situationen ännu mer intressant. Därför är syftet med detta examensarbete att undersöka betydelsen av receptionisternas språkkunskaper för kundservicen. Jag utreder också hur respondenternas bakgrund påverkar deras svar. Genom att göra en kvantitativ enkätundersökning bland hotellet Scandic Plazas kunder får jag fram kunders åsikter om och synpunkter på temat för undersökningen.
För att uppnå syftet med detta arbete har jag läst in mig på teori som handlar om kundservice, språkkunskaper och receptionsarbete. Förutom detta har jag utfört en enkätundersökning och därmed också bekantat mig med teori om den kvantitativa forskningsmetoden och enkätundersökningar. Jag har också samarbetat med hotellet Scandic Plaza och dess personal. Hotellets receptionsförman Kirsi Carlsson har fungerat som kontaktperson från hotellets sida och hon är också arbetets uppdragsgivare.
Detta arbete visar att trots att respondenternas bakgrund inte påverkade deras svar i denna undersökning, är respondenterna väldigt samstämmiga. Språkkunskaper är viktiga i receptionsarbete och de påverkar också kundservicen. Kundservicen kan också vara lyckad utan ett gemensamt språk och det krävs inte alltid att receptionisten och kunden talar samma språk flytande. Det är sist och slutligen helheten som är det väsentligaste också i detta fall.
Successful customer service is the foundation for the company success and its importance cannot be ignored. When foreign language comes along, the situation becomes even more interesting. Therefore, the purpose of this bachelor's thesis is to study the importance of clerks' language skills in customer service. I also study how the respondents' backgrounds influence their response. By making a quantitative survey among Scandic Plaza's customers I elicit customers' opinions and aspects in the survey topic.
In order to achieve the purpose of the thesis, I have collected theory that deals with customer service, language skills and reception work. Besides, I have done a survey and that's why I have also acquainted myself with the theory of quantitative research methods and questionnaires. I have also cooperated with the hotel Scandic Plaza and its staff. The supervisor of the hotel reception Kirsi Carlsson has worked as a contact person on behalf of the hotel and she is also the constituent of this thesis.
This bachelor's thesis shows that even if in this study the respondents' backgrounds did not influence their answers, the respondents are very solid. Language skills are important in reception work and they also influence the customer service. However, customer service can also be successful without a common language, and it is not always required that the clerk and the client speak the same language fluently. In the end, it is the wholeness that matters also in this case.
Kokoelmat