Co-created Corporate Story : Creating a Concept for Engaging Staff into Change Implementation
Rainio, Ida (2014)
---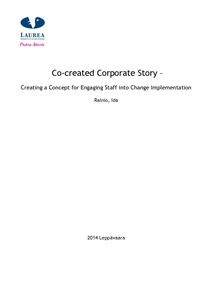 Laurea-ammattikorkeakoulu
2014
Creative Commons Attribution 1.0 Suomi
Julkaisun pysyvä osoite on
http://urn.fi/URN:NBN:fi:amk-2014111715780
Tiivistelmä
Companies are currently facing vast changes in many levels. The economic, generational and global changes affect companies' strategies, and interactive technologies have enabled people to communicate and share their thoughts freely, turning them from passive receivers into active contributors. While people tend to accept the changes better if they have ownership in them, question arises how could change be co-created together with employees?
This thesis asks if a service could be designed to help implementing change initiatives in companies and aims to create a service concept that facilitates the implementation of change while at the same time communicating and marketing it both internally and externally. It uses service design as an approach and crosses the fields of change management consulting, corporate communication and service marketing. It investigates corporate change implementation from three perspectives: corporate storytelling, internal marketing, and communityship and unites these with employee co-creation.
The concept is created in a lean method and it introduces design thinking to a new industry, to corporate communication. It invites employees to co-create a corporate story online with the help of fictional cruise and weekly questions about a company's new direction. The concept is called "Matka tulevaan", a journey to the forthcoming. It was piloted in a mid-size Finnish company, and the results of the first iteration round are presented in this thesis.
In a process that featured the participation percentage of 83 % and that took on average 1 hour 15 minutes of the staff's time, the employees submitted over 450 posts that were used a basis for creating a common voice for the company and were refined into marketing materials. While participating into the process, employees also became aware of the company's new strategy and had to reflect it in the context of their own work. The feedback from the participants was mainly positive but some points of improvement concerning the concept were also identified. These findings are presented and suggestions for future iterations are made.
Nopeat muutokset yhteiskunnan monilla tasoilla pakottavat yritykset muuttamaan toimintamallejaan. Taloudelliset, globaalit ja sukupolvien väliset muutokset vaikuttavat suoraan yritysten strategioihin, ja vuorovaikutteinen teknologia on muuttanut asiakkaat passiivisista vastaanottajista aktiivisiksi osallistujiksi. Nämä muutokset vaativat totuttelua kaikilta. Koska ihmiset yleensä hyväksyvät muutokset paremmin, jos he ovat itse osallisina päättämässä niistä, herää kysymys, miten yritykset voisivat luoda muutosta yhdessä henkilökunnan kanssa.
Tässä lopputyössä pyritään löytämään vastaus siihen, voitaisiinko yritysten muutostoimenpiteitä helpottaa siihen tarkoitukseen muotoillun palvelun avulla. Siinä luodaan palvelukonsepti, joka auttaa fasilitoimaan muutoksen jalkauttamista samalla kun muutosta viestitään ja markkinoidaan sekä sisäisesti että ulkoisesti. Näin konsepti yhdistää konsultointi-, markkinointi- ja viestintätoimistojen tarjoamat palvelut.
Lean-menetelmällä luotu konsepti vie muotoiluajattelua kokonaan uudelle alueelle – yritysviestintään. Luotavassa Matka tulevaan -konseptissa yrityksen henkilökunta kutsutaan mukaan luomaan yrityksen tarinaa. Kuvitteellinen risteilyalus ankkuroi henkilökunnan kerran viikossa yrityksen uutta suuntaa käsittelevien teemojen ympärille ja kysyy työntekijöiden näkemyksiä uudesta suunnasta.
Konsepti on pilotoitu keskisuuressa suomalaisyrityksessä. Pilottiprojektin osallistumisprosentti oli 83 %, ja se vei henkilökunnan aikaa keskimäärin 1 tuntia 15 minuuttia. Se tuotti yhteensä yli 450 kommenttia, joista muotoiltiin yrityksen yhteinen tarina sekä siitä kertovat markkinointimateriaalit. Osallistumalla prosessiin työntekijät tulivat tietoisiksi työnantajansa uudesta strategiasta ja joutuivat pohtimaan, miten se vaikuttaa heidän omaan työhönsä. Osallistujia haastateltiin jälkikäteen konseptin kehittämiseksi edelleen. Palaute oli suurimmaksi osaksi myönteistä, mutta myös kehittämiskohteita löytyi. Raportti esittelee haastattelutulokset ja ehdottaa jatkotoimenpiteitä konseptin seuraavaa iteraatiota varten.