Förväntningarna på västnyländska turismnätverket Lumo
Lindqvist, Michaela (2014)
---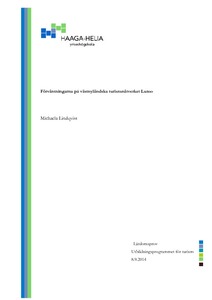 HAAGA-HELIA ammattikorkeakoulu
2014
All rights reserved
Julkaisun pysyvä osoite on
http://urn.fi/URN:NBN:fi:amk-2014112616888
Tiivistelmä
Som uppdragsgivare för detta slutarbete fungerade Lumo och därmed Västnylands tur-ismkoordinator Jukka Punamäki. Lumo är ett relativt nystartat turismnätverk i Västra Nyland, som innefattar 25 stycken privata företagsmedlemmar och fem stycken kom-muner i regionen. Dessa kommuner är Lojo, Sjundeå, Ingå, Raseborg och Hangö.
Målet med detta lärdomsprov var att undersöka de privata företagsmedlemmarnas för-väntningar och synpunkter på nätverket. Lärdomsprovets syfte var att utveckla förbätt-ringsförslag för ett lyckat nätverkssamarbete i framtiden, baserade på undersökningen.
Teorin som stöder arbetet innefattar turistdestinationen som definition, destinations-utveckling, destinationslivscykeln, samt teori om turismnätverk. Denna typ av teori behövdes eftersom lärdomsprovet behandlar Lumo som turismnätverk och Västra Ny-land som turistdestination. Resultatdelen i slutet av arbetet kräver också stöd av teorin, för att kunna analysera intervjuerna, samt för att skapa förbättringsförslag.
Denna undersökning gjordes med hjälp av kvalitativa intervjuer. Representanter från olika typers- och storleks turismföretag som är medlemmar i Lumo intervjuades indi-viduellt. Sju stycken djupgående intervjuer gjordes med företagsmedlemmarna, och deras längd varierade från 22 till 45 minuter. Alla intervjuer gjordes i oktober 2014 i Västra Nyland, och spelades in med bandspelare och transkriberades efteråt.
Nyckelresultaten, d.v.s. vilka förväntningar Lumos företagsmedlemmar i själva verket hade på turismnätverket, var ett ärligt, jämlikt och aktivt samarbete mellan alla aktörer inom nätverket, en gemensam marknadsföring för alla medlemmar och därmed ökade kundströmmar vilket resulterar i större intäkter från turismnäringen i Västra Nyland.
The tourism network Lumo, together with the tourism coordinator in southwest Fin-land, Mr Jukka Punamäki, were the commissioners of this thesis. Lumo is a relatively new start-up tourism network in western Uusimaa, comprising 25 private corporate members and five municipalities in the region. These municipalities are Lohja, Siuntio, Inkoo, Raasepori and Hanko.
The object of the thesis was to study the corporate members of Lumo, their expecta-tions and viewpoints on the network. The aim was to develop suggestions for further improvement for successful collaboration within the tourism network, based on the research.
The theoretical framework supports the thesis structure, defining, among other things, the tourist destination concept, and discusses destination development projects and tourism networks. This type of theory was needed since the thesis processes Lumo as a tourism network, and southwest Finland as a tourist destination. In addition to the re-sults of the study, also the theoretical background is required in the data analysis and development suggestion process.
The research method of this study was qualitative. Representatives from different fields of tourism businesses, all of whom were Lumo network members, were interviewed individually. Seven in-depth interviews were done with the respondents, varying from 22 to 45 minutes in length. All the interviews were conducted in October 2014 in southwest Finland, and were recorded and transcribed afterwards.
The key findings of this study were that the corporate members of Lumo actually ex-pected an honest, equal and active collaboration between all the tourism actors in the network. Another expectation was a united marketing activity of southwest Finland. This, in turn, would lead to increased client streams resulting in boosted revenues for the tourism industry in the region.
Kokoelmat