Movie Magic : En praktisk studie om hur man återskapar filmkaraktärer med hjälp av makeup, maskering och styling
Utriainen, Linda; Bussman, Frida (2014)
---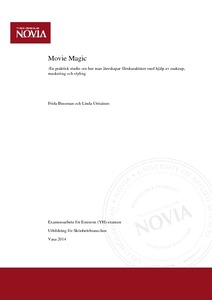 Utriainen, Linda
Bussman, Frida
Yrkeshögskolan Novia
2014
All rights reserved
Julkaisun pysyvä osoite on
http://urn.fi/URN:NBN:fi:amk-2014120217923
Tiivistelmä
Syftet med detta examensarbete är att återskapa filmkaraktärer från olika genrer med hjälp av makeup, maskering och styling för att få en inblick i hur det går till vid skapandet av filmkaraktärer. Studien kommer att vara till nytta för branschmänniskor och estenomer i form av inspiration och kunskap och för oss själva som en arbetsportfolio.
Detta är en kvalitativ studie som utförs med hjälp av datainsamlingsmetoderna dokumentstudier, styling och fotografering. I arbetet används dataanalysmetoden bildanalys. Respondenterna har använt sig av fyra stycken modeller som de har återskapat till olika karaktärer från kända filmer: Warm Bodies, The Great Gatsby, Alice i Underlandet och Black Swan. Respondenterna kommer att visa fyra bilder av varje karaktär i en bildportfolio.
Resultatet visar att återskapandet av de olika karaktärerna lyckades bra samt att de liknade originalen. Respondenterna försökte återskapa filmkaraktärerna så bra som möjligt och hittade inte på egna tolkningar. Det är viktigt att välja bra modell, ju mer lik modellen är karaktären desto lättare är det att återskapa. Respondenterna anser att de fått en bra inblick i hur det går till vid skapandet av filmkaraktärer och de tycker att de haft tillräckligt med kunskaper för att utföra alla stylingar.
The purpose of this thesis is to recreate movie characters from different genres by using makeup, special effects makeup, hairstyling and styling to get an insight into the creation of movie characters. The study will be useful to the beauty industry as well as beauty and cosmetics students, in form of a source of inspiration and knowledge and to ourselves as a workportfolio.
This is a qualitative study conducted using document studies, styling and photography as data collection methods. Four models were used and recreated into different characters from famous movies: Warm Bodies, The Great Gatsby, Alice in Wonderland and Black Swan. The data analysis method used in the work is picture analysis, further illustrated in a picture portfolio containing four pictures of each character.
The result shows that the recreation of the characters was a success and they were similar to the originals. The aim of the study was to recreate the movie characters as well as possible and no own interpretations were implemented. It is important to select a good model, the higher the similarity between the model and the character, the easier it is to recreate the character. All in all, the conductors of the study believe they got a good insight into what happens in the creation of movie characters and they think that they had enough knowledge to do all the stylings.
Kokoelmat