Say it with style : En kvalitativ undersökning gällande vad man uttrycker med sina kläder
Carlsen, Jessika (2014)
---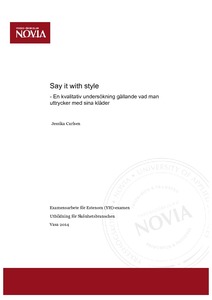 Yrkeshögskolan Novia
2014
All rights reserved
Julkaisun pysyvä osoite on
http://urn.fi/URN:NBN:fi:amk-2014121019330
Tiivistelmä
Syftet med detta examensarbete är att fördjupa sig i vad kläderna vi bär säger om oss och vår personlighet samt hur vi ser på andra människor utgående från vad de har på sig för kläder. Respondenten ville framhäva klädernas betydelse i vardagen samt undersöka vad som påverkar detta genom att utgå från färger, material, status och symboler på klädesplagg.
För att ta reda på detta har respondenten valt att göra en enkätundersökning. I undersökningen har 25 stycken informanter fått fylla i ett frågeformulär bestående av 13 frågor, varav åtta är bilder man skall välja mellan och fem är frågor med svarsalternativ.
Sammanfattningsvis kan man konstatera att många av informanterna säger sig vara ointresserade av mode och trender, men att de ändå utgår från kläder och har en stark åsikt gällande hur man skall se ut. Informanterna har tänkt väldigt lika i många frågor och många svar har varit väldigt jämna i resultatet. Man kan konstatera att man inte skall sticka ut allt för mycket om man vill passa in i samhället, eftersom att många informanter reagerade starkt på de personer som var klädda annorlunda. Man kan även konstatera att både färgerna, materialet, statusen på kläderna påverkar hur man blir bemött.
The purpose of this study is to find out what the clothes we wear say about us and our personalities as well as how we treat other people based on what they are wearing. The respondent wanted to emphasize the importance of clothes in everyday life and examine what influences this by looking into colors, materials, status and symbols on clothing.
In order to do so, the respondent has chosen to do a study where 25 informants were to answer the study consisting of 13 questions of which eight are pictures to choose from and five with options.
The result shows that the clothes we are wearing tell a lot about the person herself. It shows that one get treated differently according to what clothes one is wearing, but also how we treat other people depending on what they are wearing. Many of the informants claim that they don't pay much attention to what is trendy and what is not. However, they do judge other people according to how they dress. We can also make the conclusion that both the colors, material and the status of the clothing have a great influence on how one get treated. The informants are very united in most of their answers, which makes the result more trustworthy.
Kokoelmat