Byggnadstillsynen i skärgården : En jämförelse mellan byggnadstillsynen i Pargas, Nådendal, Kimitoön och Raseborg
Koskinen, Kenneth (2014)
---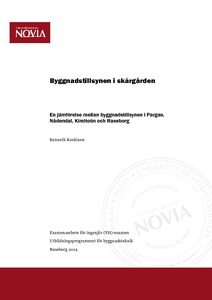 Yrkeshögskolan Novia
2014
All rights reserved
Julkaisun pysyvä osoite on
http://urn.fi/URN:NBN:fi:amk-2014120818847
Tiivistelmä
Byggnadstillsynen är en myndighets uppgift som kommunerna i Finland enligt lag är skyldiga att utföra. Examensarbetet utreder och undersöker eventuella skillnader i arbetsmetoder, personal och arbetsområden i 4 skärgårdskommuner. Miljöministeriet i Finland planerar att göra stora strukturändringar för byggnadstillsynen, vilket kommer att påverka alla kommuner i Finland.
Syftet med examensarbetet är att få en jämförelse mellan 4 kommuner i Finlands sydvästra skärgård. Skärgården är unik för Finland och ställer stora utmaningar och krav för byggnadstillsynen som övervakar och beviljar bygglov.
Byggplatser och placering av byggnader på strandområde är mera krävande jämfört med byggplatser på inlandsområden. För att nå ett lyckat resultat bör byggnadstillsynens personal i skärgården ha förståelse och kunskap om lokal byggnadstradition och god lokalkännedom.
Examensarbetet utgör en utredning av hur en regionaliserad byggnadstillsyn kunde fungera, enligt miljöministeriets riktlinjer. Byggnadstillsynen arbete styrs av markanvändnings- och bygglagen som är lika för alla, medan det finns skillnader via fastställda planer och kommunernas byggnadsordningar. I examensarbetet jämförs personal, arbetsområden och kommunernas byggnadsordningar. Slutsatsen av detta examensarbete är att vi inte direkt kan jämföra landets kommuner utan noggrannare undersökning, vilket är befogat att utföra innan en regionalisering av byggnadstillsynen i Finland verkställs.
Building supervision is an authorized task which the municipalities in Finland are obliged by law to execute. This thesis work has been to examine possible differences concerning working methods, staff and working areas in four municipalities in the archipelago in the southwest of Finland. The Ministry of Environment is planning to make extensive structural changes in building supervision, which will affect all municipalities in Finland.
The aim of this thesis is to carry out a comparison between four municipalities in the archipelago in the southwest of Finland. The archipelago is unique for Finland and poses great challenges and demands for the Board of Building Supervision which oversees and grants building permits.
Building sites and constructions are more demanding in a seafront environment than in an inland environment. In order to reach good results, the building supervision staff in the archipelago must have good knowledge and understanding of local building methods and local circumstances.
The thesis investigates how a regionalized building supervision could work according to the guidelines given by the Ministry of Environment. The basis for the building supervision in the municipalities is the Land Use and Building Act, which is the same for all. The differences between the municipalities are their ratified plans and their building codes. My thesis compares the staff, working areas and the building codes of the municipalities. The thesis result in the conclusion that is very difficult to compare different municipalities without more detailed examinations, which would be justified before a regionalization of the building supervision in Finland is carried into effect.
Kokoelmat