Inköp av viner från olika länder : Vinimport till Finland från EU och Sydamerika
Lindlöf, Denise (2014)
---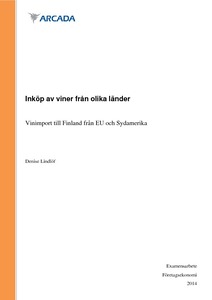 Arcada - Nylands svenska yrkeshögskola
2014
All rights reserved
Julkaisun pysyvä osoite on
http://urn.fi/URN:NBN:fi:amk-2014122120621
Tiivistelmä
Detta examensarbete jämför skillnaderna mellan att importera viner till Finland från ett
land inom EU och ett land i Sydamerika. Temat för arbetet är vinimport och jag
bearbetar temat genom att fördjupa mig bland annat i frågor om förtullning, lagar,
skyldigheter och vilka skillnaderna är mellan Sydamerikas och EU:s vinimport. Texten
i arbetet baserar sig dels på teori inom ämnet, och dels på intervjuer med
yrkesmänniskor inom branschen. Problemställningen i min text baserar sig på att jag
forskar i hur vin kommer till Finland. Jag tar också reda på hur man skall gå till väga
när man köper vin till Finland, om det är någonting extra man måste tänka på, och om
det är stor skillnad mellan att köpa in viner från ett EU-land eller från ett land i
Sydamerika. De källor jag huvudsakligen har använt mig av är tullens och Finlex
hemsidor. Jag har begränsat mitt forskningsområde till EU och Sydamerika och
vinimporter där emellan. I intervjuerna har jag valt att använda mig av öppna frågor
eftersom det känns mest lämpligt för det här arbetet. För att få tillräckliga
referensvärden har jag intervjuat fyra personer inom branschen. I mitt arbete kommer
jag fram till att skillnaderna Sydamerika och EU emellan främst är frågan om kostnader
och tid.
This thesis compares the differences between importing wines to Finland from an EU
country and a country in South America. The theme of my thesis is wine import and I
look into the theme, by immersing myself in e.g. matters of customs, laws , obligations
and what the differences are between South America and the EU's wine imports . The text
of the thesis is based partly on the theory of the subject , and partly on interviews with
professionals in the field. My research questions are based on how wine comes to Finland.
I also find out how to proceed when buying wine to Finland, if there is anything extra
you have to consider , and if there is a big difference between buying wine from an
EU country or from a country in South America . The sources I mainly use are the Finnish
customs and Finlex websites. I have limited my research to the EU and South America
and wine import between them. I am using open-ended questions in the interviews because
I feel they are the most fitting kind of questions for this thesis. In order to obtain
adequate reference values I interviewed four people in the industry. In my thesis I come
to the conclusion that the differences between South America and Europe foremost is the
issue of cost and time.
Kokoelmat