Visual appearance and effective communication in commercial digital newsletters : Constructing digital commercial newsletters in a visually appealing format as a part of an effective company marketing strategy
Djupsjö, Thomas (2014)
---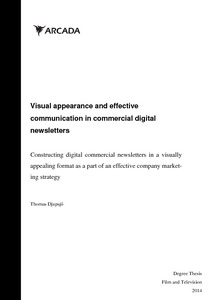 Arcada - Nylands svenska yrkeshögskola
2014
Creative Commons Attribution-NoDerivs 3.0 Unported
Julkaisun pysyvä osoite on
http://urn.fi/URN:NBN:fi:amk-2014121920572
Tiivistelmä
In today's society companies and organizations use internet and e-mail to reach potential customers, clients and business partners. E-mail and internet is something most has available and are using either directly or indirectly. This is why commercial newsletters have become an effective way to reach lots of receivers in a few seconds for a relatively small amount of money and effort.
In my thesis I'm trying to figure out if the visual appearance in commercial digital newsletters is important and which techniques commonly are used in the visual construction of newsletters.
To answer some of the questions I've subscribed to an amount of newsletters through email sent by Finnish companies and studied their visual appearance and structure. I've also analyzed structure of content and subject lines in messages to obtain understanding in how
this is executed by the senders and how the newsletters' appearance differ depending on the company that distributes them.
According to my study there are good solutions and guidelines to follow in order to achieve a better reach and engagement by the receivers. By following reports for each
marketing campaign, it's possible to enhance features in newsletters to reach certain improvements when it comes to commitment and interactivity by the subscribers.
By using theories written in my thesis one is able to look at the messages with a critical mindset and approach which enables good insights in how established commercial companies may have weaknesses when it comes to e-mail marketing.
I dagens samhälle använder företag och organisationer internet och e-post för att nå potentiella kunder och samarbetspartner. E-post och internet är något många har tillgång till och använder direkt eller indirekt. Därför har kommersiella nyhetsbrev blivit ett effektivt sätt att nå ett stort antal mottagare på några sekunder för en relativt liten investering och ansträngning.
I mitt arbete försöker jag komma fram till om den visuella framställningen i kommersiella nyhetsbrev är viktig och vilka tekniska metoder som ofta används vid visuella framställningen av nyhetsbrev.
För att få svar på en del av frågorna har jag prenumererat på ett antal nyhetsbrev per e-post av finska företag, för att studera meddelandenas visuella framställning och struktur. Jag har också analyserat innehållstrukturen och rubriker i meddelanden för att få en förståelse över hur dessa är verkställda av sändaren samt vilka utseendemässiga variationer det finns mellan företagen som distribuerar meddelandena.
Enligt min studie finns det bra lösningar och riktlinjer att följa för en bättre spridning och engagemang hos mottagarna. Genom att följa med rapportering för enskilda marknadsföringskampanjer är det möjligt att förbättra vissa egenskaper i nyhetsbreven för att nå vissa förbättringar och för att öka trovärdighet och interaktiviteten hos mottagarna.
Genom att använda teorierna i min studie kan man med ett kritiskt öga och infallsblick analysera meddelanden, vilket ger goda insikter i hur etablerade kommersiella företag kan
ha svagheter inom e-postmarknadsföring.
Nykypäivän yhteiskunnassa yritykset ja organisaatiot käyttävät internetiä ja sähköpostia mahdollisille asiakkaille sekä yhteistyökumppaneille. Sähköposti ja internet ovat monien käytössä joko suoraan tai välillisesti. Sen takia kaupalliset uutiskirjeet ovat tehokas tapa tavoittaa ison määrän vastanottajia sekunneissa suhteellisen pienellä investoinnilla ja panostuksella.
Työssäni yritän saada selville onko visuaalisen ulkonäön merkitys kaupallisissa uutiskirjeissä tärkeää sekä millaisia tekniikkoja usein käytetään toteutuksessa visuaalisissa uutiskirjeissä.
Saadakseni vastauksia joihinkin kysymyksiin olen tilannut määrän uutiskirjeitä suomalaisilta yrityksiltä, tutkiakseni visuaalista ulkonäköä ja rakennetta viesteissä. Olen myös analysoinut sisällön rakennetta ja otsikoita viesteissä saadakseni ymmärrystä toteutuksesta sekä millaisia variaatioita viestien ulkonäössä on lähetettävien yrityksien välillä.
Tutkimukseni mukaan on olemassa hyviä ratkaisuja ja suuntaviivoja joita voi hyödyntää saadakseen paremman jakelun ja sitoutumista vastaanottajilta. Seuraamalla raportteja markkinointikampanjoiden perusteella on mahdollista parantaa joitakin ominaisuuksia uutiskirjeissä
saadakseen parannuksia jotka lisäävät uskottavuutta sekä interaktiivisuutta vastaanottajilta.
Käyttämällä tutkimukseni teorioita on mahdollista analysoida viestejä kriittisellä silmällä ja katselutavalla, mikä antaa käsityksen siitä miten menestyvien kaupallisten yrityksien sähköpostimarkkinoinnissa saattaa löytyä heikkouksia.
Kokoelmat