Nyckeltalsanalys som en jämförelse mellan företag och branschen : Case Magnus Nyman AFM- LKV Ab Oy
Nyman, Cilla (2015)
---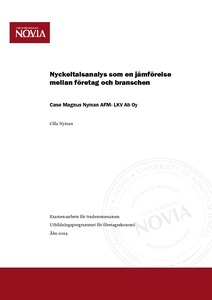 Yrkeshögskolan Novia
2015
All rights reserved
Julkaisun pysyvä osoite on
http://urn.fi/URN:NBN:fi:amk-201501041017
Tiivistelmä
Ekonomin i Finland har varit dålig de senaste åren och det har påverkat fastighetsbranschen. Därför har jag i mitt arbete nyckeltalsanalyserat fastighetsförmedlingen Magnus Nyman AFM LKV Ab Oy för att ta reda på hur den ekonomiska situationen ser ut i företaget och om det finns behov av förändringar i ekonomistyrningen.
En nyckeltalsanalys handlar om att räkna ut olika tal från bokslutsinformationen och jämföra och analysera dem. Jag har använt mig av ekonomiska nyckeltal som jag räknat ut och jämfört dem med statistik från fastighetsförmedlingsbranschen och de riktgivande värden som finns i litteraturen. Jag har använt mig av boksluten från åren 2009 till 2013 i Magnus Nyman AFM LKV Ab Oy för att få fram i vilken riktning företaget utvecklar sig. Genom nyckeltalen har jag fått fram information om lönsamheten, kapitalstrukturen, betalningsförmågan, effektiviteten och utvecklingsriktningen i företaget.
Som resultat har jag fått fram att det gått relativt bra för Magnus Nyman AFM LKV Ab Oy jämfört med de riktgivande värdena och andra företag i branschen. Ännu behövs ingen förändring i ekonomistyrningen göras. Det bästa året för företaget har varit år 2010 och det sämsta år 2012. Lönsamheten har varit bra under alla år och kapitalstrukturen och betalningsförmågan har det aldrig varit något problem med. Utsikterna för företaget ser bra ut eftersom företaget lyckats växa år 2013 trots att det varit ett dåligt år för fastighetsförmedlingsbranschen.
The economy in Finland has been poor the last couple of years which has affected the real estate industry. That is why I have made an analysis of key figures in the real estate company Magnus Nyman AFM LKV Ab Oy to find out the economic status in the company and if there are any needs of change in the financial control.
An analysis of key figures is used to count different kinds of numbers from the financial information and to compare and analyse them. I have used financial ratios that I have counted and compared to statistics from the real estate industry and the standard values from the literature. I have used information from the financial statements from year 2009 to 2013 from Magnus Nyman AFM LKV Ab Oy to find out the direction of the development of the company. Through the key- figures I have found out information about the profitability, capital structure, affordability, effectivity and the direction of the development in the company.
The result that I have achived is that the economic status in Magnus Nyman AFM LKV Ab Oy is relatively good compared to the standard values and other companies in the industry. There are no needs of any changes in the financial control at this moment. The best year for the company has been 2010 and the worst 2012. The profitability has been good during all of the years and there have never been any problems with the capital structure and the affordability. The prospects for the company are looking good because the company has been able to grow during 2013 despite the bad year in the real estate industry.
Kokoelmat