Citizen participation as a systematic development tool in renewing social and healthcare services : - a Case Study in the Public Service Context
Jäppinen, Tuula (2015)
---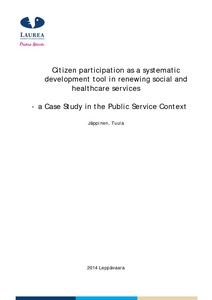 Laurea-ammattikorkeakoulu
2015
All rights reserved
Julkaisun pysyvä osoite on
http://urn.fi/URN:NBN:fi:amk-201501301767
Tiivistelmä
The purpose of this thesis is to develop a framework for using citizen participation as a systematic development tool in renewing public services.
The structure of the thesis consists of an introduction, theoretical framework, presentation of the three case organizations and their cases, research methodology, collection and analysis of the empirical data, empirical results, and conclusions. The theoretical framework includes concepts that are related to service development such as open innovation, participation, service design, and change management.
The empirical part of the thesis consists of three case descriptions in the city of Oulu and city of Kajaani, and in the Kainuu region from the period 2013-2014. The research is carried out as participatory action research and is conducted through a service design process. The main empirical data collection methods are service design methods such as design probes, interviewing, design workshops, customer journey maps, profiles, empathy maps, business model canvases, participatory budgeting, and prototypes. The empirical data are analyzed through content analysis and pattern-matching logic.
The thesis contributes to the service design and innovation literature by proposing a framework for using citizen participation as a systematic development tool in renewing public services. The framework integrates into a single model the special characteristics of service design and innovation processes, open innovation, participation, decision-making, and change management.
Lopputyön tavoitteena on luoda kuntalaisia osallistava jäsennelty malli julkisten palvelujen uudistamiseen.
Lopputyön rakenne muodostuu johdannosta, teoreettisesta osasta, kolmen kohdeorganisaation ja niiden kohdetapausten esittelystä, empiirisen aineiston keruusta, analyysistä, tuloksista ja johtopäätöksistä. Teoreettinen viitekehys sisältää käsittää palvelujen kehittämiseen liittyviä käsitteitä kuten avoin innovaatiotoiminta, osallisuus, palvelumuotoilu ja muutosjohtaminen.
Työn empiirinen osa koostuu kolmesta tapaustutkimuksesta Oulussa, Kajaanissa ja Kainuun alueella vuosina 2013-2014. Tutkimus toteutetaan osallistuvana toimintatutkimuksena
hyödyntäen palvelumuotoilun prosessia. Empiirinen aineisto on koottu pääosin palvelumuotoilun menetelmin kuten fokusryhmät, muotoiluluotain, haastattelut, työpajat, palvelupolku,
persoonat, empatiakartta, business model canvas, osallistuva budjetointi ja prototyypit. Empiirinen aineisto analysoidaan sisältöanalyysina kolmen teorian avulla.
Lopputyö täydentää palvelumuotoilu- ja innovaatiokirjallisuutta uudella kuntalaisia julkisten palvelujen uudistamiseen osallistavalla mallilla. Malli yhdistää toisiinsa palvelumuotoilun ja innovaatiotoiminnan prosessien, avoimen innovaatiotoiminnan, osallisuuden, päätöksenteon sekä muutosjohtamisen erityispiirteet.