Socialpedagogiskt arbete med barn med autismspektrumtillstånd : En litteraturstudie
Moudanib, Leila-Maria (2015)
---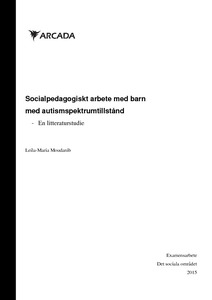 Arcada - Nylands svenska yrkeshögskola
2015
All rights reserved
Julkaisun pysyvä osoite on
http://urn.fi/URN:NBN:fi:amk-201503062815
Tiivistelmä
Syftet med arbetet är att uppmärksamma barn med autismspektrumtillstånd och deras behov av social inklusion. Det kommer också att uppmärksamma barnens position i samhället och deras begränsningar i det vardagliga livet. Dessa begränsningar, såsom svårigheter med social interaktion och kommunikation, kan bidra till utmaningar med sociala relationer. Detta kan i sin tur eventuellt leda till social exklusion. Genom en litteraturstudie besvaras frågeställningarna 1) Vilka utmaningar kan det finnas för barn med autismspektrumtillstånd att uppnå social inklusion? och 2) Hur kan man med socialpedagogisk yrkeskompetens stöda barn med autismspektrumtillstånd till social inklusion? I arbetet har det inkluderats 8 artiklar som har analyserats med hjälp av en innehållsanalys.
Resultatet av studien visar att barn med autismspektrumtillstånd utan undantag har någon form av problem i etablerandet eller upprätthållandet av sociala kontakter. Detta beror på nedsättningar i social interaktion och kommunikation. Dessa färdigheter behöver barnet hjälp med att öva upp. Det framkom också att samarbete mellan skola och föräldrar har visat sig ha stor betydelse för barnets trivsel. Även mångprofessionellt arbete är mycket viktigt för att barnets vardag ska vara stabil och förståelig. Socialpedagogiskt arbete med barn med autismspektrumtillstånd innebär i denna kontext olika metoder för att hjälpa och stödja barnet med färdigheter som gynnar social inklusion. De olika kompetenserna hjälper socialpedagogen i sitt arbete med detta. Dessa resultat är viktiga i och med att barn med autismspektrumtillstånd mer och mer integreras i allmänna klassrum och att de är socialt inkluderade är väsentligt för deras välmående och livskvalitet.
The purpose of this work is to draw attention to children with autism spectrum disorders and their need for social inclusion. It will also highlight the children's position in society and their limitations in everyday life. These limitations such as difficulties with social interaction and communication, may contribute to the challenges of social relations. This, in turn, may lead to social exclusion. Through a literature study answered the questions 1) What challenges might there be for children with autism spectrum disorders to achieve social inclusion? and 2) How can social pedagogical professional competence support children with autism spectrum disorders to social inclusion? This work has included 8 articles which have been analyzed by a content analysis method.
The results of the study show that children with autism spectrum disorders without exception have some kind of problem in establishing or maintaining social contacts. This is due to impairments in social interaction and communication. The child needs help to practice these skills. It also emerged that cooperation between schools and parents have proven to be of great importance for the child's wellbeing. While multi professional work is very important to the child's family should be stable and understandable. Social Educational work with children with autism spectrum condition means in this context various methods to help and support the child with skills that favor social inclusion. The different competencies helps social educator in his work on this. These results are important in that children with autism spectrum disorders more and more integrated into general classrooms and that they are socially included is essential for their wellbeing and quality of life.
Kokoelmat