Indelning av hushållsvattennätet i mätdistrikt för ökad kontroll : Pargas stad
Lönnberg, Rasmus (2015)
---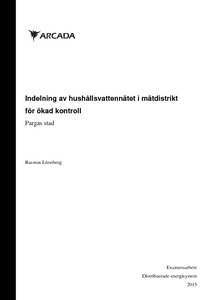 Arcada - Nylands svenska yrkeshögskola
2015
All rights reserved
Julkaisun pysyvä osoite on
http://urn.fi/URN:NBN:fi:amk-201503092930
Tiivistelmä
Förslaget till detta arbete gavs åt mig av projektingenjör Marko Rusi på vattentjänstver-ket i Pargas stad.
I dagsläget får vattentjänstverket inte tillräckligt med information angående hushållsvat-tennätet i staden för att kunna få en helhetsbild över hur det fungerar, dess kondition och upptäcka samt lokalisera vattenläckage.
Inom verket har man därför beslutat att övervakningen och insamlingen av relevant data måste förbättras för att på det sättet kunna utveckla kontrollen över nätet, bättre kunna planera förebyggande åtgärder i framtiden och lokalisera samt upptäcka vattenläckage. Det gör man genom att dela in hela hushållsvattennätet i mindre områden eller distrikt, och placera ut mätare som mäter flödesmängder (och tryck) som leds in i varje enskilt distrikt.
Genom att göra det försöker man sträva till att så utbrett som möjligt kunna följa hus-hållsvattennätets process och flödesmängder samt upptäcka vattenledningsläckage och större förbrukning än normalt.
The topic of this thesis was given to me by Marko Rusi who is project engineer at the Wa-ter Supply Company in the Town of Pargas.
In the current situation the Water Supply Company doesn't get enough information about its mains in the town to get a comprehensive picture of how it works, its condition and also locating and discovering water leakage.
So the Company has decided to increase the surveillance and the gathering of relevant data about the mains. By doing that they hope to improve the control over the mains, bet-ter plan renovations of the mains in the future and locating and discovering water leakage in the mains. The plan is to allocate the whole water mains into smaller districts or areas, and by placing meters that measures flowrate (and pressure) of the water that enters a dis-trict.
Through this they are striving to as extensively as possible to follow the mains process, flowrates and also locate water leakage and larger consumptions then usually.
Kokoelmat