Kampen om lajks : Tonårsflickors tankar om social kontroll på sociala medier
Stenius, Astrid (2015)
---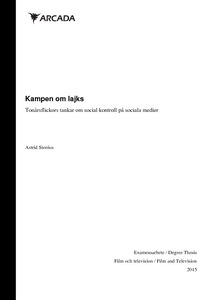 Arcada - Nylands svenska yrkeshögskola
2015
All rights reserved
Julkaisun pysyvä osoite on
http://urn.fi/URN:NBN:fi:amk-201503243511
Tiivistelmä
Syftet med det här examensarbetet är att undersöka hur flickor i tonåren tänker kring social kontroll på sociala medier. För att ta reda på detta har kvalitativa djupintervjuer med finlandssvenska ungdomar i åldern 14-18 år genomförts.
Intervjustudien genomfördes som en del av forskningsprojektet Ett livskraftigt medie-landskap på svenska i Finland som leddes av antropolog Katarina Graffman och ge-nomfördes vid Svenska social- och kommunalhögskolan vid Helsingfors universitet hösten 2013 och våren 2014. Av de totalt 30 intervjuerna valdes tio intervjuer ut för den här undersökningen.
Resultatet av analysen är att sociala medier har en identitetskapande funktion för in-formanterna, där konstruerandet av kön igår som en viktig del. På sociala medier ge-nomgår informanterna en social träning där den grupp av vänner som de tillhör regle-rar deras mediebeteende genom social kontroll och normstyrning. Bildkommunikation är dominerande och man mäter popularitet i hur många lajks man får på en bild man laddat upp. Informanterna upplever den sociala kontrollen som hård och de känner sig styrda och relativt maktlösa i sitt liv online. Angående skillnader mellan offlinejaget och onlinejaget är det viktigaste resultatet av studien att informanterna inte upplever att de är fria att bli någon annan på sociala nätverk. En av konventionerna på sociala nätverk är att onlinejaget eller avataren ska visa upp en bättre bild av användaren men det finns gränser för hur mycket bättre man får framstå som och hur mycket onlinejaget får skilja sig från sin skapare offline.
Man är tvungen att följa de oskrivna reglerna på sociala nätverk för att få vara med i gemenskapen som regleras och kontrolleras av den sociala gruppen.
The aim of this thesis is to study how teenage girls relate to social control on social media. The method is qualitative research through in-depth interviews with Finland Swedish teenagers aged 14 to 18 years.
The interviews were made as a part of a research project on media use among young people conducted by anthropologist Katarina Graffman at the Swedish School of Social Science (SSKH) at the University of Helsinki in the fall of 2013 and spring of 2014. Ten interviews were selected for this study from a total of 30 interviews.
The result of the analysis is that social media for the informants is an arena for identity search and construction, where the construction of a gender identity plays a significant part. On social media the informants undergo a social skills training where the peer group regulates their media behavior through social control and peer influence. Pictorial communication is dominating and popularity is measured in how many likes one gets per uploaded photo. The informants experience the social control as strict and they feel governed and relatively powerless in their online life. The main result regarding the differences between the offline self and the online self is that the informants don't feel free to reinvent themselves on social media. One of the conventions on social networks is that the online self or the avatar is expected to represent a better version of the offline self, but there are limitations as to how much better the representation is allowed to be and how much the online representation can differ from its creator offline.
One is forced to follow the unwritten rules on social media to be allowed in the com-munity which is regulated and controlled by the peer group.
Kokoelmat