VHF/UHF-taajuuskaistan värähtelijät, vaihesiirtopiirit ja elektroniputkitehovahvistimet
Kovrigin, Alexandr (2015)
---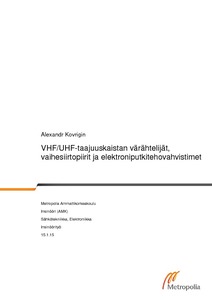 Metropolia Ammattikorkeakoulu
2015
All rights reserved
Julkaisun pysyvä osoite on
http://urn.fi/URN:NBN:fi:amk-201504154372
Tiivistelmä
Tässä insinöörityössä on tutkittu eri vaihtoehtoja korkeateho ja korkeataajuus vahvistimille ja kehitetty testisyöttöpiiri, jolla vahvistinta syötettiin testisignaaligeneraattoripiirillä, ja lopuksi testattiin simuloimalla tai laboratoriossa. Tehoputkiin liittyy monia hyviä puolia kuten analo-gisignaalin puhtaus, jota hyödynnetään musiikkivahvistimissa, mutta myös monia ikäviä asioita kuten epästabiilius ja hehkutuksen-menevä teho.
Vaikka nykyisin elektroniputket ovat suurelta osin korvattuja transistoreilla, putkilla on edel-leen tärkeä, miltei korvaamaton asema tietyissä alueissa. Elektroniputket suuren tehon an-siosta soveltuvat tekniikkaan, johon transistori ei enää kelpaa. Esimerkkeinä voidaan pitää tutkaa sekä sotilaallisissa että siviilikäytössä myös televisio- ja radioantenni-lähettimissä.
In this thesis, different options for high power and high frequency amplifiers are explored. Voltage controlled oscillator was chosen as a signal generator as a feeding circuit for tube amplifier, since VCOs are useful devices and are used widely in telecommunications and radiotechnology, along with phased locked loops.
First several voltage controlled oscillators were buil to function as a signal generator for high power UHF-valve amplifier. Next, phase shifters were implemented to verify signal stability and wider spectrum of operation of amplifier. Phase shifters are also widely used, especial-ly in telecommunications and in microwave circuits. Phase shifters can be implemented by using either RC-circuits, microstriplines or SMD-baluns. For this thesis microstriplines were chosen, since RC-circuits are not suitable for UHF-band and baluns are expensive and difficult to find for the bandwidth in question.
Power tubes were chosen in amplifier design, since they are associated with many ad-vantages, such as analog signals purity, which is used in music amplifiers, but also with many drawbacks, such as instability of the glow power. The goal was to test voltage con-trolled oscillators, phase shifters and amplifier fed from the test signal generator circuit, both by simulating and in the laboratory. Power source design for a high voltage amplifier is an important part of a circuitry and a separate part of this thesis was devoted for designing such.
As a result, all voltage controlled oscillators ware simulated successfully, both in LTspice- and Orcade Cadense- environments. Then several alternative microstripline phase shifters were built on a prototype board substrate. Beforehand simulated voltage controlled oscilla-tor circuits were milled on a prototype board. Finally, phase shifters were tested in laborato-ry with above mentioned voltage controlled oscillators. Both VCOs have been proven to be oscillating successfully in a wide range, notwithstanding partly improper components, as well as phase shifters shifting signal by 90 and 180 degrees, notwithstanding minor quality of prototype board available.
Kokoelmat