Factors influencing organizational knowledge management : knowledge transfer in two local finance companies
Saretsalo, Mariel (2015)
---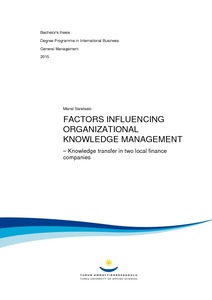 Turun ammattikorkeakoulu
2015
All rights reserved
Julkaisun pysyvä osoite on
http://urn.fi/URN:NBN:fi:amk-201504164429
Tiivistelmä
Competitive advantage can be achieved in an organization by recognizing knowledge and skills that are critical for the business. Tacit knowledge is personal, context specific knowledge that individual gains through experience. Sharing tacit knowledge to other members strengthens the organization as a whole and creates competitive advantage that is crucial in the competition of today's market.
The aim of this study is to investigate the views of the management of finance companies towards tacit knowledge as well as methods and challenges in its transfer. A fundamental factor for the success of an organization is its members' ability and attitude to share knowledge inside the organization. Organization and management can contribute to knowledge transfer with their own actions.
The empirical data was created by examining and analyzing theoretical framework together with the research results. Secondary data such as books, articles and electronic sources were used to collect that framework. Empiric framework was executed with qualitative research by interviewing participants with questions that were formulated by analyzing the theoretical framework.
The results showed that motivational and attitudinal factors influence knowledge transfer as well as gaining new knowledge. Also previously acquired knowledge affects internalization of new knowledge. Organization can enhance knowledge transfer by its culture and incentive systems. Finance field was not considered to be directly dependent on amount of knowledge but the accuracy of knowledge matters which is why knowledge transfer was considered to be an ongoing process
Organisaation kilpailukyky varmistetaan tunnistamalla liiketoiminnan kannalta olennainen tietämys ja taidot. Tietämystä on jaettava ja hyödynnettävä toiminnan kehittämisessä. Hiljainen tieto on yksilöllistä, kokemusperäistä ja ajan myötä kertynyttä tietämystä, joka jaettuna kaikkien organisaation jäsenten käyttöön vahvistaa koko organisaatiota ja mahdollistaa tavoitellun kilpailuedun kiristyneillä markkinoilla.
Tämän opinnäytetyön tarkoituksena on tutkia rahoitusalan esimiesten näkemyksiä hiljaisesta tiedosta ja siihen liittyvistä siirtämisen keinoista ja haasteista. Olennaista työyhteisön menestymiselle on jäsenten kyky ja halu jakaa organisaatiossa olevaa tietoa, jota organisaation johto ja esimiehet voivat toiminnallaan tukea.
Tutkimuksen empiirinen runko on luotu tutkimalla ja analysoimalla teoreettista osuutta yhdessä haastatteluista saaduilla tuloksilla. Aineiston keruuseen on käytetty sekundaarisia lähteitä, kuten kirjoja, artikkeleita ja sähköisiä aineistoja. Laadullinen tutkimus toteutettiin haastattelemalla kahta rahoitusalan esimiestä.
Tutkimuksen tuloksena oli, että motivaatio ja asenteelliset tekijät vaikuttavat niin tiedon siirtoon kuin uuden tiedon etsimiseen. Myös aiemmin omattu tieto vaikuttaa uuden tiedon sisäistämiseen. Organisaatio voi kulttuurillaan ja palkkiojärjestelmällään edistää tiedon siirtoa. Rahoitusalan ei suoranaisesti koettu olevan riippuvainen tiedon määrästä, mutta tiedon tulisi olla ajan tasalla, minkä vuoksi tiedonsiirtoa pidetään jatkuvana prosessina.
Kokoelmat
Samankaltainen aineisto
Näytetään aineisto, joilla on samankaltaisia nimekkeitä, tekijöitä tai asiasanoja.
Saarela, Joonas

(

Metropolia Ammattikorkeakoulu

,

2016

)

This Master's Thesis aims to improve knowledge management in a consulting service business. Currently knowledge in not managed appropriately in the case company. The purpose of this Thesis is to identify challenges related ...

Keglovits, Barbara Tuuli

(

HAAGA-HELIA ammattikorkeakoulu

,

2013

)

Living in the information society, where information is constantly created, transferred, managed and used, leads to the phenomenon of a knowledge economy. In an economy as such, capital is defined by intellectual capabilities; ...

Korpela, Karoliina

(

Jyväskylän ammattikorkeakoulu

,

2011

)

The objective of this study was to find out weaknesses and strengths in the knowledge sharing between sales people at a fresh produce exporter Vital Berry Marketing S.A. (VBM). The research method is qualitative and the ...