MicroSCADA project documentation database
Kolam, Karolina (2014)
---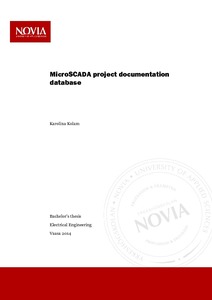 Yrkeshögskolan Novia
2014
All rights reserved
Julkaisun pysyvä osoite on
http://urn.fi/URN:NBN:fi:amk-201504285366
Tiivistelmä
Detta ingenjörsarbete var beställt av ABB Power Systems, Network Management.
Syftet med detta ingenjörsarbete var att skapa en databas för dokumentering av
information om MicroSCADA projekt. Ett lämpligt verktyg för att skapa rapporter
och skriva ny data till databasen skulle också ingå. Före detta ingenjörsarbete
sparades all information som skilda textdokument. Med en databas kunde man
samla all information på ett ställe för att arkiveras under en längre tid. Det
förenklade framförallt sökprocessen men bidrog också med säkerhet så att ingen
viktigt information försvann.
Teoridelen i detta arbete handlar om databas historik och relationsdatabaser.
Programspråket SQL behandlas också. Databasen gjorde i Access och ett
användargränssnitt i Excel. Kommunikationen mellan dessa program sköttes med
programspråket SQL och även programmeringsspråket vba.
Resultatet av detta arbete var ett system var användaren kan skriva ny data till
databasen men också editera data i databasen. Användaren kan också söka i
databasen och som resultat av sökningen kan användaren också välja att skriva ut
en rapport på sitt sökresultat. Rapporten har en bestämd layout med rubriker och
fonter för att skapa enhetliga rapporter.
This bachelor's thesis was commissioned by ABB Power Systems, Network
Management. The purpose of the thesis was to create a database for storing
MicroSCADA project information. Also a usable tool for writing data to the
database and creating reports was to be made. Before this thesis work, all the
information about the department's projects was stored as single text documents.
A database would collect all information in one place and also store the
information for a long time. Also it would provide security so that no data is lost.
The theoretical section of this thesis is about database history and relational
databases. Also the programming language SQL is treated. The database was done
in Access and the user interface in Excel. The communication between the two
programs was handled by the database programming language SQL and the
programming language VBA.
The outcome was a hidden database and a user interface where the user can write
new data to the database and also edit the data in the database. The user can
search the database and as a result of the search print a report. The report has a
standard layout to standardize all the project reports.
Kokoelmat