Kartläggning av ogräsförekomsten på Mickels hemman i Närpes
Lönnqvist, Mari (2015)
---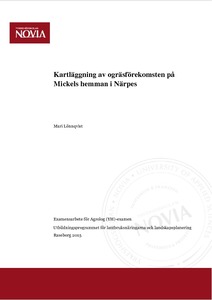 Yrkeshögskolan Novia
2015
All rights reserved
Julkaisun pysyvä osoite on
http://urn.fi/URN:NBN:fi:amk-201504204582
Tiivistelmä
Ogräsarternas frekvens och artsammansättning varierar mellan regioner, gårdar och enskilda skiften. Artförekomsten förändras långsamt pga. att många arters frön kan ligga många år i groningsvila i marken. Utan anpassad reglering och bekämpning kan ogräsen bli ett stort problem som påverkar huvudgrödans avkastning. Klimat, jordart, växtföljd, jordbearbetning och direkt riktade bekämpningsåtgärder, är de huvudsakliga faktorerna som inverkar på ogräsflorans sammansättning på fältet. Framgångsrik bekämpning av ogräsen förutsätter kännedom om vilka arter som förekommer på ett enskilt skifte. Detta gäller i synnerhet vid användning av kemiska ogräsbekämpningsmedel.
Genom ett odlingsförsök kartlades ogräsfloran på samtliga, till jordbruksföretaget Mickels hörande, skiften. Från varje skifte togs sex jordprov. Jordproverna breddes ut i lådor och de i proven befintliga ogräsfröna stimulerades med hjälp av bevattning, temperatur och konstljus till groning. De uppkomna ogräsplantorna artbestämdes och räknades. 16 olika ogräsarter identifierades, varav åkerviol var den mest frekventa. Resultaten i undersökningen liknade till stor del de resultat som framlagts i tidigare undersökningar i Finland. Kartläggningen antyder att alla fält kan bekämpas med samma på marknaden befintliga herbicidblandning eftersom denna hade god effekt på samtliga av de mest frekventa ogräsen.
Weed frequency and species composition vary between regions, farms and individual fields. The occurrence of weed species changes very slowly because a lot of species seeds can be in dormancy in the ground for many years. Without specific regulation and control the weeds can become a large problem, which affects the yield negatively. Climate, soil type, crop rotation, cultivation and directly aimed control measurements are the main factors that affect the weed species composition in the fields. A successful weed control presupposes knowledge of the species occurring in a single field. This applies particularly when chemical weed control is used.
By means of a growth trial the weed flora occurring on the fields belonging to the Mickel farm was mapped. Six soil samples were taken from every field. The samples were put in boxes and the existing weed seeds in them were stimulated to germinate by irrigation, temperature and artificial light. The emerging plants were identified by species and counted. Sixteen different weed species were identified, of which field pansy was the most frequent. The results in the investigation largely resembled the results of previous investigations in Finland. The mapping indicates that all the fields can be treated with one specific herbicide mixture existing on the market, as this was effective on the most frequent weed species.
Kokoelmat