Importprocessen av textilvaror från USA till Finland.
Lipponen, Leonie (2015)
---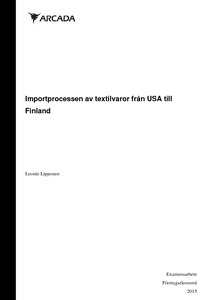 Arcada - Nylands svenska yrkeshögskola
2015
All rights reserved
Julkaisun pysyvä osoite on
http://urn.fi/URN:NBN:fi:amk-201505117291
Tiivistelmä
Detta examensarbete är en kvalitativ undersökning över importprocessen av textilvaror från USA till Finland. Arbetet huvudforskningsfråga är att redogöra hur importprocessen av textilvaror från ett tredje land utförs. Dessutom undersöker arbetet de element som är relaterade till importprocessen d.v.s. inköpsprocessen, speditörens roll, specialbestämmelser- och tullförfarandet för textilvaror. Syftet är således att få en förståelse hur det går till i praktiken att utföra en importprocess med alla dess faktorer. Arbetet skall erbjuda realistisk information som är användbar i framtida affärslivet inom textilindustrin. Den teoretiska referensramen består av import utanför EU, speditörens roll, förtullningsförfarande och specialbestämmelser för textilvaror. Dessutom innefattar insamlade teorin en djupare inblick på allt som hör till en importprocess t.ex. dokumentation och avgifter. Källorna till den teoretiska delen består av ett antal böcker, akademiska artiklar och internetsidor. Den empiriska delen beskriver hur olika speditionsverksamheter hanterar importförfarandet från USA till Finland. Det empiriska materialet för arbetet insamlades genom fyra semi-strukturerade intervjuer av personer från speditionsbranschen. Resultatredovisningen visar att speditören har en stor roll inom importverksamheten. Speditörerna har en bred kunskap om ämnet och erbjuder ett brett sortiment av logistiska tjänster till sina kunder. Importprocessen ser oftast lika ut och allting fungerar elektroniskt via tullen. Textilvaror har specialbestämmelser för t.ex. olika djurpälsar, textilfärger och barnkläder. Viktigaste dokumenten för import av ett tredje land är handelsfakturan, förpackningslistan och förmånsbevisen. Avgifter som uppbärs av textilvaror från USA till Finland är en tullsats på 12 % och en mervärdeskatt på 24 %. Tullens laboration analys- och avskaffnings kostnader debiteras av företagen. Slutligen visade sig att speditörer används av små- och medelstora företag med en för lite kunskap om ämnet. Speditörerna har ofta långvariga relationer med sina kunder.
This thesis is a qualitative study of the import process of textiles from USA to Finland. The studies main question is to find out how the import process of textiles from a country outside of the European Union is executed. The study also examines the different elements that are related to import such as the purchasing process, forwarders role, special regulations and customs procedure for textiles. The aim is to get an understanding how the practical operation of an import process is accomplished. And also the purpose of the study is to get a realistic approach to the process that can be used in future business work in the textile industry. The theoretical part consists of import outside EU, forwarders role, customs procedure and special regulations for textiles. The theory also prevails a deeper understanding of different factors that are linked with the import process such as documentation and various expenses. The sources consist of some books, academic articles and internet sites. The empirical part displays how different forwarding companies handle the import process from USA to Finland. The empirical material is collected from four semi-structured interviews from professionals in the forwarding industry. The result report of the study shows that forwarders have a big role in the import activity. Forwarders have a wide knowledge about the subject and offer a broad range of logistical services. The import process looks the same in textile import assignments and functions via electronic customs service. Textiles have special regulations regarding animal fur, textile colors and children's clothing. The most important documents in an import process from a third country are trade invoice, packaging list and benefit proof. Expenses for textiles are customs fee 12 % and value added tax 24 %. Examination and disposal of goods are charged to companies by the customs service. Finally forwarders are usually used by small or medium sized companies, with a modest knowledge about the subject. Forwarders have long relationships with their customers.
Kokoelmat