Finns det liv i fängelse? : En kvalitativ undersökning om kvinnliga långtidsfångars upplevelser av sin strafftid
Kunnari, Camilla; Tulimaa, Juhani (2015)
---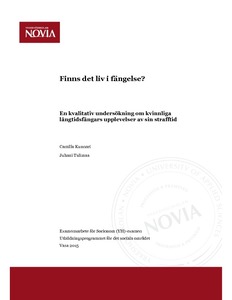 Kunnari, Camilla
Tulimaa, Juhani
Yrkeshögskolan Novia
2015
All rights reserved
Julkaisun pysyvä osoite on
http://urn.fi/URN:NBN:fi:amk-201505117241
Tiivistelmä
Examensarbetets syfte är att undersöka hur kvinnliga långtidsdömda fångar i Finland förhåller sig till strafftiden som en del av livet. Vi har intervjuat fem respondenter om deras subjektiva upplevelser om fängelsetiden.
I den teoretiska delen redogörs för bakomliggande faktorer som kännetecknar långtidsdömda kvinnor: våld diskuteras i samband med sociala förhållanden. Även kris och psykologiska fenomen som institutionalisering och överlevnadsstrategier tas upp.
I den empiriska delen använder vi oss av kvalitativa intervjuer. Resultaten visar att långtidsdömda kvinnor inte upplever fängelsetiden som en del av "det riktiga livet"; väntan på öppet fängelse och frigivning präglar strafftiden. Å andra sidan kan vi dra en slutsats att samtliga respondenter har stegvis accepterat sin situation, och anpassat sig till fängelselivet; de anser att deras situation i dag är bättre jämfört med den tidiga fasen i början av straffet.
The aim of the thesis is to study how long-term female prisoners in Finland feel about their prison time as a part of their life. We have interviewed five respondents about their subjective feelings and experiences of incarceration.
In the theoretical framework of this study we highlight the underlying factors that characterize long-term female prisoners: violence and social relationships is discussed. We also write about crisis and other psychological phenomena, such as institutionalization and survival strategies.
In the empirical part of this study we apply a qualitative research method and qualitative interviews. The results show that long-term female prisoners do not experience prison time as a part of their "real life"; the prison sentence is marked by waiting for a transfer to open prison and eventually freedom. We can, however, also draw conclusions that all the respondents have step-by-step accepted their situation and accustomed to prison life; the women note that their situation today is better than in the early days of their sentence.
Kokoelmat