Enas genom konst : En resursstärkande handbok för att främja estetisk verksamhet inom vänelevsverksamheten i högstadiet
Sundell, Elin (2015)
---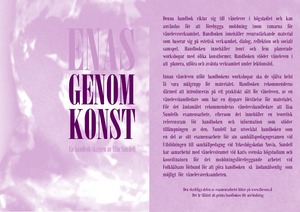 Yrkeshögskolan Novia
2015
All rights reserved
Julkaisun pysyvä osoite on
http://urn.fi/URN:NBN:fi:amk-201505127604
Tiivistelmä
Syftet med detta examensarbete är att uppmärksamma möjligheten för kulturell, pedagogisk och social verksamhet, samt att lyfta fram estetisk verksamhet som en möjlig resursstärkande insats i det mobbningsförebyggande arbetet i högstadiet. Jag har redogjort för möjligheterna genom att utarbeta en handbok med resursstärkande material som främjar estetisk verksamhet, för att skapa reflektion och dialog som kan främja socialt samspel. Handbokens syfte är även att synliggöra elevens inneboende styrkor och att öka elevens förståelse för sig själv och andra. Handboken riktar sig till vänelever i högstadiet och kan användas inom ramarna för vänelevsverksamheten. Jag har på eget initiativ format och realiserat examensarbetet med stöd av samarbetspartner, vilka har varit dels koordinatorn för det mobbningsförebyggande arbetet vid Folkhälsans förbund och dels Karis svenska högstadiums vänelevsteam som består av vänelever och vänelevshandledare.
I mitt examensarbete presenterar jag den litteratur jag läst om sociokulturell inspiration, estetisk verksamhet, reflektion, dialog, identitetsskapande och socialt samspel. Jag redogör för hur jag utarbetat och utvärderat handboken med stöd av mina samarbetspartner och genom verksamhet och gruppintervjuer med väneleverna. Jag beskriver även hur jag tolkar och använder utvärderingens resultat.
Min frågeställning för examensarbetet var följande: På vilket sätt kan min utarbetade handbok fungera som en resursstärkande insats i det mobbningsförebyggande arbetet i högstadiet? Det resultat jag kommit fram till är att handboken kan vara användbar om den integreras i vänelevsverksamheten och finns det förutsättningar för att hålla verksamheten ändamålsenligt kan handboken uppnå sitt syfte.
The aim of this thesis is to consider the issues surrounding cultural, pedagogical and social activity and to highlight how aesthetic activities can form a contribution towards anti-bullying campaigns in upper secondary schools. I have considered these issues by creating a handbook that aims to empower pupils and supports aesthetic activities to promote reflection and dialogue to improve student social interaction. The handbook also aims to help students to actualise their inherent strengths and increase their appreciation of themselves and others. The handbook is intended to be used by student representatives that assist bullying prevention in upper secondary school and can be a part of anti-bulling campaigns. I have by own initiative formed and realised this thesis with support of co-operative partners. My co-operative partners for this thesis have been the coordinator of bullying prevention measures at the organization Folkhälsans förbund and the team that practices the anti-bullying campaign in Karis svenska högstadium, consisting of student representatives and supervisors realising the anti-bullying campaign.
In my thesis I reference the literature I have read around socio-cultural animation, aesthetic activity, reflection, dialogue, identity-building and social interaction. In addition I clarify how I have developed and evaluated the handbook with support of my co-operative partners, and through both activity and group interviews with the student representatives. I also describe how I have interpreted and used the results of my evaluation.
My research question reads: How could my developed handbook function as an empowering tool to better enable bullying prevention in upper secondary schools? The results might show that the handbook could be valuable if successfully integrated into the anti- bullying campaign and, if there are the necessary conditions for the activities to be conducted in an efficient way, then the handbook can reach its purpose.
Kokoelmat