Uppföljning av markberednings- samt planteringskvalitet
Wickholm, John (2015)
---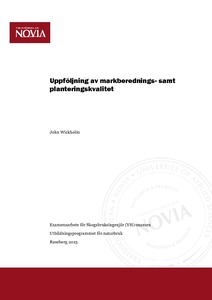 Yrkeshögskolan Novia
2015
All rights reserved
Julkaisun pysyvä osoite on
http://urn.fi/URN:NBN:fi:amk-201505178415
Tiivistelmä
Att kalavverka och sedan förnya genom plantering är den säkraste och snabbaste
metoden att förnya skog. När man planterar kan man använda sig av förädlade
plantor med bättre tillväxt och kvalitet än naturligt uppkomna plantor. För att få
en lyckad skogsförnyelse genom plantering är det viktigt att man väljer rätt
markberedningsmetod och trädslag för ståndorten. För att plantorna ska klara
sig och växa bra är det också väldigt viktigt att markberedningen och
planteringen utförs på rätt sätt.
Det här examensarbetet behandlar hur Stora Ensos entreprenörer i södra
Finland utförde förnyelsearbeten våren och sommaren 2014. Totalt inventerades
90 ytor, markberedningen på dessa ytor utfördes av tre olika entreprenörer och
planteringen av sju olika entreprenörer. I inventeringen användes systematisk
provytemätning, som referens för bedömningen av kvaliteten på arbetet
användes Stora Ensos interna arbetsinstruktioner som är baserade på
skogsbrukets utvecklingscentral Tapios rekommendationer i boken "Råd i god
skogsvård".
Resultaten av inventeringen tyder på att rekommendationerna har följts bra av
Stora Ensos entreprenörer. Resultatet visar att det fanns väldigt få brister i
arbetet både gällande markberedningen och planteringen, någon större skillnad
mellan de olika entreprenörernas resultat gick inte heller att hitta.
To do a clear cutting and then renew by planting is the safest and fastest method
to renew forests. When renewing forests by planting, breeded plants with better
growth and quality than natural plants are preferably used. In order to have
successful forest regeneration by planting it is important to choose the right soil
preparation method and tree species, adapted to the habitat. To get the plants to
survive and grow well, it is also very important that the soil cultivation and
planting work are done correctly.
This thesis deals with how well Stora Enso's entrepreneurs in Southern Finland
did their regeneration work during spring and summer of 2014. A total of 90
planted areas were inventoried. On these areas soil preparation was performed
by three different entrepreneurs and the planting was carried out by seven
different entrepreneurs. For the inventory systematic sample plots were used
and as references for the assessment of the sample plots Stora Enso's internal
work instructions were used. Stora Enso's work instructions are based on
Forestry Development Centre Tapio's recommendations in the book "Råd i god
skogsvård".
The results of the survey suggest that the recommendations have been followed
well by Stora Enso's entrepreneurs. The results show that there were very few
flaws in the work, both in terms of soil preparation and planting. Nor could any
significant differences between the various entrepreneurs' performances be
found.
Kokoelmat