The integration of foreign studets and immigrants in the Finnish society : case: Seinäjoki seurakunta
Awadh-Ritamäki, Mirfat (2015)
---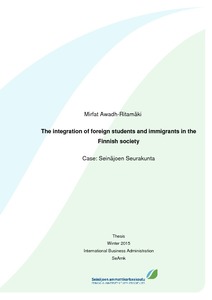 Seinäjoen ammattikorkeakoulu
2015
All rights reserved
Julkaisun pysyvä osoite on
http://urn.fi/URN:NBN:fi:amk-201505239767
Tiivistelmä
This study was conducted in Seinäjoki to demonstrate how the Parish of Seinäjoki helps or can help students and immigrants integrate in the society.

The study is an initial attempt to investigate how much it costs and what benefits the students and immigrants get from the Parish.

The research method used here is both qualitative and quantitative, but mostly qualitative.

The theoretical chapters cover the history of Seinäjoki Parish and how the Parish helps foreigners integrate in the society. Interviews were conducted at Café Kismus, where some of the immigrants and students in Seinäjoki meet every Monday for hand crafts and conversations. Data was also searched using Webropol research questionnaires and by email.

In the empirical part, the results of the questionnaires are analysed by going through all the questions one by one to get an in-depth understanding of the topic related. The questionnaires were distributed to the school priest who posted them on the church webpage in Facebook, and some were given to foreign students via email and the Webropol online survey software. In total, there were 25 responses; the sample included mostly foreign students and some immigrants.

The conclusion part offers future recommendation for the Parish of Seinäjoki on how to help more students and immigrants integrate in the society. It also helps them know what most of the foreign students and immigrants want from them as well.

The main result is that living is Seinäjoki as a foreign student or immigrant is not as easy as it seems. According to most of the answers to the last question of the questionnaire, the Parish could help them get jobs or at least try to find jobs for them to integrate. The language barrier was also another thing that led the students and immigrants to search for jobs helplessly.