När inomhusmiljön påverkar hälsan : -en artikel om inomhusmiljöns påverkan på hälsan, tillsammans med astma, allergi och stress
Värnström, Linda (2015)
---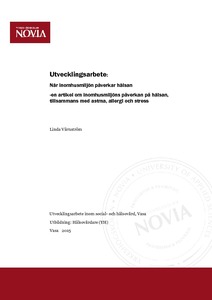 Yrkeshögskolan Novia
2015
All rights reserved
Julkaisun pysyvä osoite on
http://urn.fi/URN:NBN:fi:amk-2015052710742
Tiivistelmä
Abstrakt
Detta utvecklingsarbete är en fortsättning på examensarbetet "Sick Buildning Syndome (SBS) i relation till astma allergi och stress" (Ekman, Klemets & Värnström, 2013). Utvecklingsarbetets fokus ligger på inomhusmiljöns påverkan på hälsan. Syftet med utvecklingsarbetet är att undersöka vad ny forskning säger om Sick Building Syndrome (SBS) och astma, allergi och stress. Utvecklingsarbetet är genomfört teoretiskt med 9 nya vetenskapliga artiklar som grund. Artiklarna som använts är av internationell bakgrund och är publicerade från år 2013 och framåt. Som analysmetod har innehållsanalys använts.
Problemen med inomhusluften är en stor börda för både samhället och individen som påverkas. Symtomen, som uppkommer som följd av försämrad inomhusluftkvalitet, är övergående. Risk för att utveckla en kronisk eller allvarlig sjukdom anses vara möjlig, men är ännu inte bekräftat utav forskning. Resultatet visar att inomhusluften påverkar individens hälsa avsevärt. Det finns en förhöjd risk att insjukna i olika symtom på grund av inomhusluften ifall astma, allergi eller stress finns med i bakgrunden. I resultatet framkommer även att det samtidigt är flera faktorer som inverkar på hälsan gällande astma, allergi och stress.
En artikel är skriven som produkt av utvecklingsarbetet. Syftet med artikeln är att nå ut med information till vårdpersonal som kommer i kontakt med denna patientgrupp.
Summary
This development project is based on the Bachelor´s Thesis "Sick Building Syndrome (SBS) in relation to asthma, allergy and stress - a theoretical study between these factors" (Ekman, Klemets & Värnström, 2013). This development project is focused on the indoor environment, how it affects the health. The purpose of this development project is to explore what new research says about Sick Building Syndrome (SBS) and asthma, allergies and stress. This project is based on 9 different studies. The studies been used, has all an international background, and are published from 2013 onwards. As a method of analysis has content analysis been used.
The problems considering indoor air is a big burden on both society and the individual affected. Symptoms that occur as a result of exposure of indoor air quality are generally disappearing after the person is leaving the building. The risk of developing a chronic or serious illness is considered to be possible, but is not yet confirmed with any research. The results show that indoor air affects the individual's health significantly. There is an increased risk of developing various symptoms due to indoor air in case of asthma, allergies or stress exists in the background. The result also suggests that it is simultaneously several factors that impact on health together with asthma, allergy and stress.
Kokoelmat