Vattenvårdsåtgärder vid skogsdikning : En fallstudie vid Bastuåsen i Korsbäck by, Kristinestad
Gullans, Daniel (2015)
---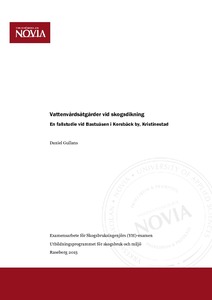 Yrkeshögskolan Novia
2015
All rights reserved
Julkaisun pysyvä osoite on
http://urn.fi/URN:NBN:fi:amk-201505249866
Tiivistelmä
Arbetet undersöker hur vattenvårdsåtgärder beaktas vid skogsdikning och om de utförs enligt de uppgjorda dikesplanerna och vattenskyddsplanen. Fallstudien behandlar ett område vid Bastuåsen i Korsbäck, Kristinestad och är ett samarbete med OTSO Skogstjänster, team Österbotten.
I undersökningen har jag granskat dikesplanen samt vattenskyddsplanen och sedan sett hur planerna har utförts i terrängen och hur de följer de rekommendationer som skogbrukets utvecklingscentral TAPIO har publicerat.
Resultaten tyder på att OTSO Skogstjänster (vid tidpunkten Kustens Skogscentral) har följt de på förhand uppgjorda planerna och rekommendationerna.
Som en följd av områdets topografi, erosionskänslighet och de kraftiga regn som drabbade området sommaren 2012 blev åkermark nedanom skogsområdet översvämmat. De utförda vattenvårdsåtgärderna var dimensionerade enligt HQ 1/20, vilket innebär att det statistiskt uppstår ett högt flöde under en 20 års period. De regnmängder som kom under 2012 i området var de största nederbördsmängderna som registrerats i Meteorologiska institutets mätstation sedan den började göra mätningar år 1942.
Som utvecklingsförslag för att förebygga liknande situationer i framtiden är att anlägga större sedimenteringsbassänger eller fågelvatten för att reglera vattennivån. På det sättet kan man magasinera en stor mängd vatten i skogen före det når utloppet.
This thesis deals with how water protection measures have been considered in forest ditch network maintenance and if the measures have been carried out according to the ditching plans and the water protection plan. A case study has been made in cooperation with OTSO Skogstjänster, Team Österbotten. The site is at Bastuåsen in Korsbäck, Kristinestad.
The method used to carry out this study was to investigate the ditch plans and the water protection plan and compare them with the measures that have already been taken and also with the recommendations that the Finnish Forest Development Centre TAPIO have published.
The results indicate that OTSO Skogstjänster (at that time Kustens Skogscentral) have followed the original plans and recommendations.
A heavy rain affected the forest area in 2012, which led to flooding and damages on agricultural land and waterways. The performed water protection measures had been dimensioned according to HQ 1/20, which means that statistically such a high flow occurs once every twenty years. The amounts of rain in 2012 in this area were the highest amount that has been registered by the Finnish meteorological institute since they started measuring in 1942.
As a proposal for development to prevent similar situations in the future, a bigger sedimentation basin or a kind of bird wetland could be constructed, by which the water level can be regulated.
Kokoelmat