Speditionsföretagens utbud av tjänster i Finland : En analys utgående från företagens webbsidor
Wiik, Tony (2015)
---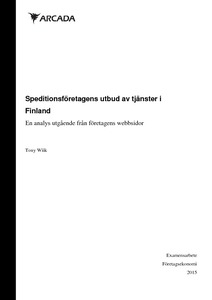 Arcada - Nylands svenska yrkeshögskola
2015
All rights reserved
Julkaisun pysyvä osoite on
http://urn.fi/URN:NBN:fi:amk-2015060111784
Tiivistelmä
Sammandrag:
Detta examensarbete går ut på att undersöka och jämföra Finlands Speditörförbunds medlemmars utbud av tjänster utgående från företagens webbsidor. Speditionsföretag kan ha flera roller beroende på vilken typ av speditions- och logistiktjänster de kommit överens om med uppdragsgivaren. Därför har speditionsföretagen medvetet kunnat begränsa sin kundkrets, verksamhetsområde eller sina affärsmodeller. Syftet är att göra det enklare för kunden att jämföra utbudet av tjänster hos speditionsföretagen i Finland. Tjänsterna utgår från "Huolitsijan roolit ja tehtävät kansainvälisessä kaupassa" och även hela teoridelen baserar sig på denna figur. Själva empiriska undersökningen görs genom att samla in kvalitativ sekundärdata i en Excel-tabell som är lämplig för jämförande av företagen och dess tjänster.
De främsta resultaten som undersökningen gav var att tjänster som hade med materialflöde att göra var allra vanligaste och de flesta företagen hade största delen av sina tjänster från detta område som bl.a. lagringstjänst och internationella transporter. Tjänster som har med informationsflöde att göra var färre än väntat, medan kapitalflöde var väldigt dåligt representerat. Storföretag samt medelstora företag hade i överlag större urval än vad småföretag hade. Flera företag erbjöd även skräddarsydda tjänster åt enskilda kunder, dvs. kunden kan ta kontakt med företaget för att få veta vilka tjänster som uppfyller deras behov bäst.
Abstract:
This thesis is an investigation and comparison about the range of services based on the Finnish Freight Forwarders Association members companies' websites. Freight forwarding companies may have multiple roles depending on the type of forwarding and logistics services they agreed to do. Therefore, freight forwarding companies have consciously been limiting their clientele, business or their business models. The aim is to make it easier for customers to compare the range of services of freight forwarding companies in Finland. Services are found in "Huolitsijan roolit ja tehtävät kansainvälisessä kaupassa" and also the whole theoretical part is based on this figure. The actual empirical study done by collecting qualitative secondary data in an Excel table which is suitable for comparing companies and their services.
The main results the survey gave were that services within material-flow were most common and most operators had most of their services from this area, such as storage services and international shipments. While information-flow services had less than expected and capital-flow had almost none. Large corporations and medium-sized enterprises had generally larger selection than small businesses had. Several companies even offered customized services to diverse-customers, i.e. customers can contact the company to find out what services meet their needs.
Kokoelmat