När hjälten är en kvinna : En jämförande analys av huvudkaraktärerna i Hungerspelen och Divergent
Lönnroos, Frida (2015)
---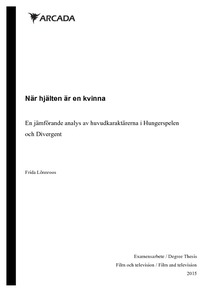 Arcada - Nylands svenska yrkeshögskola
2015
All rights reserved
Julkaisun pysyvä osoite on
http://urn.fi/URN:NBN:fi:amk-2015060412483
Tiivistelmä
Sammandrag:
Hungerspelen har under 2010-talet nått stora framgångar. Med Katniss Everdeen (Jennifer Lawrence) i spetsen har böckerna och filmerna gjort succé. De kvinnliga hjältinnorna är få i Hollywood och Katniss Everdeen har blivit hyllad som ett exempel på en lyckad kvinnlig protagonist. Vad är det som gör henne till en bra hjältinna?
Undersökningen är en kvalitativ studie där karaktären Katniss Everdeen jämförs med karaktären Tris Prior (Shailene Woodley) från Divergent. Båda två hamnar i positioner de inte väljer själva. Katniss Everdeen blir en symbol för den stundande revolutionen och Tris Prior får veta att hon är en divergent. Hon passar inte in i någon av samhällets grupperingar utan är efterlyst och hotad till livet. Metoden som används i arbetet är feministisk filmteori. Syftet med undersökningen är att visa vad som skapar en självständig kvinnlig hjältinna. Hur påverkar den manliga blicken vår syn på karaktärerna? Undersökningens resultat är att Katniss Everdeen står utanför den manliga blicken och är en aktiv karaktär som gör sina egna val. I Tris Priors fall finns det en manlig karaktär, Four (Theo James) som både figurerar som Tris Priors läromästare och pojkvän. I Divergent existerar den manliga blicken.
Mina förhoppningar om arbetet är två. För det första att på ett enkelt sätt peka ut hur den manliga blicken fungerar i en film och för det andra vill jag inspirera filmskapare att i framtiden skapa aktiva, kvinnliga hjältinnor.
Abstract:
The Hunger Games trilogy has since the first book in 2008 developed into something big. With Katniss Everdeen (Jennifer Lawrence) in the lead the movie versions of the books have led to success. In Hollywood the female heroines are rare and Katniss Everdeen has often been mentioned as an good example of a successfully portrayed female protagonist. What makes her that good?
The analysis is a qualitative research where Katniss Everdeen is compared with the character Tris Prior (Shailene Woodley) from the trilogy Divergent. Both Everdeen and Prior end up in positions they do not choose for themselves. Everdeen becomes a symbol for the coming revolution and Prior gets to know that she is a Divergent. She does not fit in to the society's categories. She is wanted and her life is threatened. The analysis has feministic film theories as the method.
The purpose of this paper is to show how an independent, female heroin is made. How does the male gaze affect our view on the characters? The result of this analysis is that Katniss Everdeen stands outside of the male gaze and is an active character that makes her own choices. In Divergent there is a male character, Four (Theo James), who functions as Tris' instructor and boyfriend. In Divergent the male gaze is existing.
This paper can hopefully function as a guide how the male gaze works and inspire filmmakers to create active female heroines in the future.
Kokoelmat