Integrating the sense of touch into apartment marketing strategy
Zvonarevic, Zrinka (2015)
---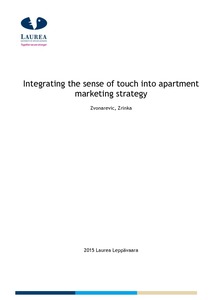 Laurea-ammattikorkeakoulu
2015
Creative Commons Attribution 3.0 Unported
Julkaisun pysyvä osoite on
http://urn.fi/URN:NBN:fi:amk-201505066308
Tiivistelmä
This thesis describes a quasi-experimental study which set out to investigate how the sense of touch can be integrated into apartment marketing strategies using a product called Active Paper as the subject of exploration.
Active Paper is a type of paper that incorporates technology which makes graphics appear on a seemingly blank sheet of paper after applying a drop of liquid to its surface.
The main goal of this study is to examine whether Active Paper can be used as a marketing tool to influence people's preferences and attract the attention of potential home buyers. This would be achieved by printing apartment layouts on Active Paper. The apartment layouts would include hidden graphics of furniture which would be uncovered by the touch of a finger dipped in a liquid.
As a theoretical framework, this thesis uses sensory marketing with special attention given to the sense of touch and its role in the consumer domain. It utilises a quasi-experimental research design with control and experimental group in order to gather empirical evidence for the research proposition, and to understand how people process and evaluate the apartment layouts printed on Active Paper.
In the marketing context, touch is regarded as an important factor in evaluating products and package design. However, the role of touch in marketing, outside of the direct physical contact with products, is a relatively unexplored area. Some studies have suggested that incorporating touch into apartment marketing messages would influence people's preferences and attract more attention in comparison with the marketing communication lacking the possibility of touch. To investigate this hypothesis, this study used convenience sample of 120 students of Laurea University of Applied Sciences. 60 students were assigned to the control group, and the other 60 to the experimental one. Participants of the control group were asked to visually observe apartment layouts on standard sheet of paper. Participants of the experimental group were asked to touch the surface of the apartment layouts on Active Paper with the finger dipped in water, and observe what will appear beneath. The hypothesis of this thesis predicted more favourable attitude towards the apartment associated with Active Paper and touch, than the one experienced only visually on standard paper.
However, the empirical findings of this study do not support the hypothesis that touching apartment layouts printed on Active Paper influence people's preferences toward apartments to a higher extent than mere visual observation.
Whilst the results do not confirm the hypothesis, this research builds the argument for conducting future research on the role of touch in marketing and its effect on people's perception outside of the direct physical contact with a product.
Tämän opinnäytetyön tarkoituksena on tutkia, kuinka tuntoaistia voisi hyödyntää asuntokauppojen markkinointistrategiassa käyttämällä tuotetta nimeltä Active Paper.
Active Paper on paperipala, joka muistuttaa ulkoisesti normaalia paperia. Neste aktivoi paperissa ominaisuuden, joka saa tyhjän paperin pinnalle ilmestymään grafiikkaa.
Tutkimuksen päätavoite on selvittää, vaikuttaako Active Paper ihmisten mieltymyksiin, ja näin ollen, onko sillä potentiaalia osana markkinointistrategiaa. Markkinointimateriaalina olisi paperi, jossa on kuva asunnon pohjapiirroksesta, ja jota kostuttamalla esiin ilmestyy kuvia huonekaluista.
Opinnäytetyön teoriaosuus käsittelee aistimarkkinoinnin teoriaa, painottaen tuntoaistia ja sen roolia kuluttajapiirissä. Tutkimusmenetelmänä on kokeellinen tutkimus, jonka tarkoitus on kerätä empiiristä todisteaineistoa ja ymmärtää, kuinka ihmiset reagoivat paperiin. Tutkimus sisältää kontrolli- sekä koeryhmät.
Markkinoinnissa tuntoaistia pidetään tärkeänä tekijänä tuotteiden ja pakkausmallien arvioinnissa. Siitä huolimatta, tuntoaistin rooli markkinoinnissa on pysynyt suhteellisen tukimattomana ilmiönä. Tietyt tutkimukset viittaavat siihen, että tuntoaistin sisällyttäminen markkinointiviestiin vaikuttaa positiivisesti ihmisten mieltymyksiin ja ostopäätöksen tekoon. Tämän testaamiseksi tutkimukseen valittiin 120 opiskelijaa Laurea-ammattikorkeakoulusta, joista 60 valittiin kontrolliryhmään ja 60 koeryhmään. Kontrolliryhmän tehtävä oli arvioida pohjapiirrosta vain visuaalisesti. Koeryhmän tehtävä oli koskettaa paperin pintaa vedellä kostutetuilla sormilla ja tarkkailla, mitä paperille ilmestyy. Tämän tutkimuksen hypoteesi oli, että koeryhmä tulisi antamaan paremmat arviot kuin kontrolliryhmä.
Tutkimuksen tulokset eivät kuitenkaan tukeneet hypoteesia, koska ryhmien antamissa arvioissa ei ollut merkittäviä eroja. Vaikka tulokset eivät tuekaan hypoteesia, tutkimus nosti esille huomioita ja jatkokysymyksiä mahdollisia uusia tutkimuksia varten.
Kokoelmat