The effects of the financial crisis of 2007-2008 on the economy of Finland
Kaitila, Aleksi (2015)
---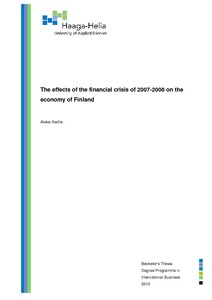 Haaga-Helia ammattikorkeakoulu
2015
Creative Commons Attribution 3.0 Unported
Julkaisun pysyvä osoite on
http://urn.fi/URN:NBN:fi:amk-2015060512569
Tiivistelmä
This thesis aims to answer how the global financial crisis of 2007-2008 affected the economy of Finland. This is done by considering the crises that followed it. The study is demarcated to include major developments until 2013. Beyond 2013, the financial crisis cannot be considered a relevant cause of developments yet due to the complexity of the economy.

The thesis attempts to give information on how Finland as part of the European Union and the euro area related to the state of its economy in crisis, and how much Finland's economy suffered compared to similar economies. The origin of the crisis, as well as the effect of the crisis on Finnish companies and on the tightening of financial regulations, are dealt with as well.

The basics of Finnish economy and terminology are given so that people interested in the content but less acquainted with economics can understand most of the content. At best, the thesis attempts to be similar to a guidebook.

As Finland suffered two recessions, in 2007-2008 and 2012-2013, Finland's GDP statistics from mainly 2008-2012 were compared to the European Union in general and its western neighboring country, Sweden. The results from this process were that Sweden was successful in avoiding most of the crisis due to not belonging in the euro area.

Large Finnish multinational companies were not affected as greatly as their large staff reductions would suggest. Instead, the companies were only implementing their internationalization plans and expanding abroad, which could be easily misattributed as a fault of the crisis.

Financial supervision was tightened in the years following the crisis. New, more powerful European financial supervision authorities were founded.

Finland's first recession was worse than that of European Union countries in general, but its second recession was not especially damaging and it managed to maintain a high profile by keeping its AAA credit rating in the demarcated timeframe as one of the only three countries in Europe.

Finland's comparatively steep recession seems to have been largely caused by its export structure being based on investment goods, and due to being part of the euro area.