Etablera dotterbolag i Finland - Ett svenskt praktikfall
Nyberg, Carolina (2015)
---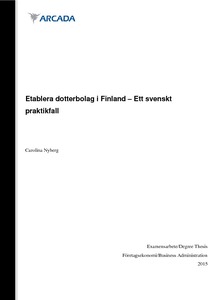 Arcada - Nylands svenska yrkeshögskola
2015
All rights reserved
Julkaisun pysyvä osoite on
http://urn.fi/URN:NBN:fi:amk-2015060812772
Tiivistelmä
Syftet med detta examensarbete är att analysera ett svenskt företags etablering i Fin-land. Avsikten är att redogöra hur etableringen har gått, analysera vad som gått bra och mindre bra, och hur det kunde ha gjorts annorlunda. Avsikten är också att ta upp vilka skillnader som finns mellan Finland och Sverige och vad som är viktigt att tänka på när man etablerar ett svenskt företag i Finland. Arbetet begränsas till endast ett företags etablering i Finland och jämförs inte med något annat företag. Analysen utförs genom att intervjua företagets vd och landschef, samt genom analys av olika försäljningsstatistik. I teoridelen tas upp bland annat hur man ska tänka kring skill-nader i konsumentbeteende, hur man ska tackla konkurrenter i de olika länderna samt vikten av att välja rätt butiksläge när man etablerar sig i ett nytt land. Resulta-tet visade att företagets etablering inte varit så framgångsrik som planerat och att försäljningen i Finland inte varit så hög som hoppats. De främsta orsakerna till att etableringen inte blev så lyckad är dåliga butikslägen och otillräcklig marknadsfö-ring. Analys av företagets tillvägagångssätt i planeringen av etableringen visade att resultatet kunde ha blivit bättre genom djupare research om de finska konsumenter-na och den finska marknaden samt genom effektivare och tydligare marknadsföring. I samband med analysen i examensarbetet presenteras också förslag på vad som kan göras nu och i framtiden för att förstärka företagets position bland de finska konsu-menterna.
På grund av önskan om sekretess från företagets sida har vissa delar av arbetet klippts bort och publiceras inte. Dessa delar har dock bedömts av examinatorn och godkänts.
The aim of this thesis is to analyze a Swedish company's establishment in Finland. The intent is to describe how the establishment has resulted, what has gone well and not so well, and what could have been done differently. The intent is also to discuss the differences between Finland and Sweden, and what is important to consider when establishing a Swedish subsidiary in Finland. The study is limited to only one compa-ny and is not compared to any other company. The study is conducted through inter-views with the company's CEO and regional manager in Finland, and through analy-sis of different sales statistics. The theory comprises how to manage differences in consumer behavior, how to manage competitors in various countries and the im-portance of choosing the right store location when establishing in a new country. The results showed that the company's establishment in Finland has not been as successful as planned and sales in Finland have not been as high as hoped. The main reasons to the bad result of the establishment are the failed store locations and insufficient mar-keting. Analysis of the company's approach and planning indicated that the results could have been improved by deeper research on Finnish consumers and the Finnish market, and through more effective and visible marketing. In connection with the analysis in the thesis suggestions on what can be done now and in the future to strengthen the company's position among Finnish consumers are also presented.
The company used as case in this thesis wishes to stay anonymous and therefore some parts have been deleted in the published version. Those parts have though been read and approved by the examiner.
Kokoelmat