Salong Estheticas närvaro i sociala medier : engranskning av marknadskommunikation i sociala medier
Ahlfors, Nina (2015)
---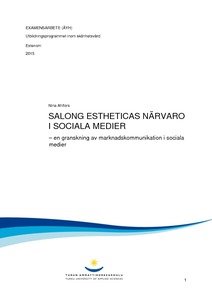 Turun ammattikorkeakoulu
2015
All rights reserved
Julkaisun pysyvä osoite on
http://urn.fi/URN:NBN:fi:amk-2015061213249
Tiivistelmä
(- en granskning av marknadskommunikation i sociala medier)
Jag har gjort ett arbete gällande Salong Esthetica, Axxell Utbildnings övningssalong i Pargas, där blivande kosmetologer övar sina praktiska färdigheter. Syftet med mitt arbete är att utreda hur företag kan bedriva marknadskommunikation via sociala medier. Vad är relevant i marknadsföringen till kunder i sociala medier? Närmare bestämt vill jag granska hur vi bör marknadsföra salong Esthetica via Sociala medier. Kosmetologutbildningen liksom övningssalongen behöver mera synlighet; vi behöver skapa intresse kring kosmetologutbildningen samt locka mera kunder till vår övningssalong.
Sociala medier kan beskrivas som en omgivning förverkligad av internetteknologi, där människor möts, utbyter tankar, publicerar, klassificerar samt delar med sig av information. Det sociala nätverket pågår hela tiden och är översvämmat av kontakter. Givetvis bör även företag finnas representerade här; i det sociala nätverket kan företag med rätta marknadsföringsmetoder lätt nå ut till sina kunder. Marknadsföring i sociala medier bygger på att skapa kontakter, på att underhålla och vårda kundrelationer, därav behandlas även värdet av relationsmarknadsföring. Nutida marknadsföring i form av "inbound marketing" skiljer sig från traditionella marknadsföringsmetoder där budskap ropas ut åt kunderna. I dagens övermättade utbud av budskap, väljer kunden företaget, inte tvärtom.
Mitt examensarbete är av funktionell natur; arbetet är inriktat på att hämta nytta till min arbetsplats, Axxell Utbildning och närmare bestämt kosmetologutbildningen samt övningssalong Salong Esthetica. För företag är det mycket fördelaktigt att vara representerade på sociala medier; detta har jag tagit del av i teorin men även skådat i praktiken genom att underhålla Salong Estheticas egen Facebooksida.
I have chosen to study Salong Esthetica, the beauty salon at the vocational school Axxell Utbildning in Pargas. At Salong Esthetica the beautician students do their practical training. The purpose of my study is to learn more about how to successfully do marketing for a company in social media. What is relevant in marketing communication to customers in social media environment? Moreover, I want to study how to the marketing for the training salon, Salong Estehtica in social media. The beautician education needs more visibility; to attract more students and more potential customers to our training salon.
Social media can be described as an environment of internet technology where people meet, exchange thoughts, publish, classify and share information. The social media keeps going at all time and is overloaded by contacts. Of course companies should also be represented here; in the social media, companies with the right marketing methods can easily reach their customers. Marketing in social media is based on making new contacts, on maintaining and nurturing customer relationships. Therefore, the value of relationship marketing is also presented. Contemporary marketing in the form of "inbound marketing" differs from traditional marketing methods where messages are shouted out to customers. In the world of today where people are saturated of advertising messages, the customer chooses the company. Not the other way around.
My thesis is of functional nature; the study is focused on delivering use to my workplace, Axxell Utbildning and more exactly the beautician education and the training salon Salong Esthetica. For companies it is positive to be represented in social media; this I have learned in theory but also seen in practice while maintaining the Facebook page of Salong Esthetica.
Kokoelmat