Developing effective online marketing : Case: Company X
Vanhanen, Hanna (2015)
---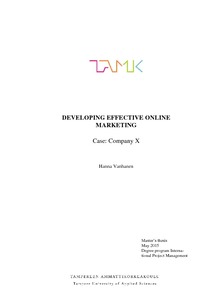 Tampereen ammattikorkeakoulu
2015
Creative Commons Attribution-NonCommercial-NoDerivs 1.0 Suomi
Julkaisun pysyvä osoite on
http://urn.fi/URN:NBN:fi:amk-2015062613723
Tiivistelmä
The Internet, new online services and social media have drastically changed people`s everyday life. Digitalization has refined one`s communication ways and also developed completely new marketing possibilities. Consumers and companies spend a significant amount of time online and use it to seek various information from companies and prod-ucts. Marketers have also acknowledged the online marketing potential as an effective marketing tool to reach current and potential customers. As online marketing practices and tools are evolving and changing rapidly, it is therefore important that companies develop marketing and their online actions with up-to-date information and material.

The purpose of this thesis is to make realistic suggestions for the case company`s effec-tive online marketing development. The outcome of this thesis are the suggestions for online marketing actions for chosen tools and introductory for potential new online marketing opportunities and channels. This thesis provides background information and guidance for the case company`s future online marketing actions. This study was con-ducted using qualitative research methods, with a case study approach.

The theoretical background of the study concentrates on the marketing basics & online marketing theories. New digital tools and different marketing theories are continually developed for the marketers` needs to manage the continuously changing online market-ing environment. In order to assess online marketing effectiveness, this thesis will also introduce most commonly used online marketing measurement ways & metrics.

This thesis begins with an introduction to the thesis topic, its objectives and structure. After introduction work presents essential theories available of the subject, following with the introduction of the used research methodologies. Empirical part of the work, will introduce the case company, its current online marketing situation and analyse its three competitors` online performance actions and levels. Last part includes discussion of the research findings and also provides future suggestions for the case company`s effective online marketing actions. The final chapter also includes analyzes of the work`s validity and reliability.

Thesis includes confidential information and some sections, example results, are ex-cluded from the public report.