Game sense and at what age to start developing it.
Bjarnason, Vilhelm (2015)
---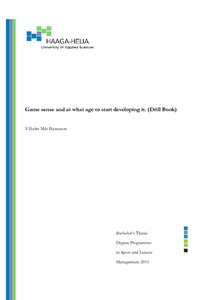 Haaga-Helia ammattikorkeakoulu
2015
All rights reserved
Julkaisun pysyvä osoite on
https://urn.fi/URN:NBN:fi:amk-2015121420593
Tiivistelmä
This thesis is a literary review of game senses.
Game senses is the ability to make the best decision available, it's to read and react to
patterns (offence and defensive), to anticipate the movement of the opponent, teammates
or the puck. All of this is done during a competition or training session.
The main result was that children can develop at different rate but coaches should start
training game senses at the age of 10-12 year old. Children under seven years old are
not developed enough (logical thinking still in its infancy) to understand tactics. Even
children under the age of 12 years would have a hard time taking in all the information
that a player needs to develop game sense. Ideal age would be to start from the age of
12 years and up to late teens.
Better skilled players are better at understanding the game. The better core skills
(shooting, skating and stickhandling etc.) the easier it is for players to develop game
senses. Better skilled player spend their time on developing game senses and maintaining
their skills, while other players that are lacking skills will have to work harder to
develop both skill and game sense.
Developing game sense is all about high quality training that puts the player into a situation
that will challenge him physically and mentally. The player needs to be put into a
game like situation over and over again. That will help him feel at ease with game scenarios
that are similar to his training. Coaches need to guide the player to the right direction
and not tell the player directly what to do but allow to think and solve problems
for themselves. Good decision making players, see patterns and their outcome
before they touch or get the puck. Making decision with or without the puck in the
right time and executing it, is what coaches desire to teach.

The aim of this thesis is to help coaches to gain knowledge about game sense and how
to develop it and at what age we should start training it with children. Flyer was made
to use as a teaching tool for coaches.
Kokoelmat