En studie om arbetsorientering för nya reseförsäljare : Viking Line Abp
Ollus, Cecilia (2016)
---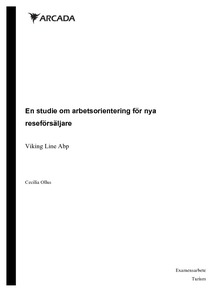 Yrkeshögskolan Arcada
2016
All rights reserved
Julkaisun pysyvä osoite on
http://urn.fi/URN:NBN:fi:amk-2016121820949
Tiivistelmä
Vikten av en god arbetsorientering för nya arbetstagare är enorm. En utförlig arbetsorientering gynnar i det långa loppet både arbetstagaren samt arbetsgivaren. Syftet med examensarbetet är att utreda hur den nuvarande arbetsorienteringen för nya reseförsäljare på Viking Line kan förbättras.
Resultaten från denna undersökning används för att ge förbättringsförslag till uppdragsgivaren. Den teoretiska referensramen består av teorier om inlärning och arbetsorientering. I denna teoretiska del behandlas bland annat visuell, kinestetisk och auditiv inlärning samt arbetsorienteringens olika faser. Den kvalitativa undersökningen är baserad på individuella intervjuer. Intervjuerna var semi- strukturerade och uppdelade i tre temaområden: arbetsorientering på en allmän nivå, Viking Lines egen arbetsorientering samt inlärning. Forskaren intervjuade nio reseförsäljare. Dessa nio intervjuer spelades in och transkriberades. Resultatredovisningen tyder på att majoriteten av respondenterna var nöjda med arbetsorienteringen i dess nu- läge, men att det efter den inledande introduktionen finns ett behov av ett senare tillfälle, som skulle vara avsett för frågor och feedback. Förutom detta gav respondenterna förbättringsförslag gällande övningsuppgifter, introduktionsdagarnas uppbyggnad samt utbildningen inför den svenska marknaden.
Denna undersökning visar att det är svårt att tillfredsställa varje ny arbetstagares behov, men att det alltid finns utrymme för förbättring. Med hjälp av dessa resultat kan uppdragsgivaren lättare identifiera de områden inom den nuvarande arbetsorienteringen som kräver förbättring eller utveckling och därmed skapa en heltäckande arbetsorientering för nya reseförsäljare.
Good work orientation is of crucial for new employees. A detailed work orientation favours both the employee as well as the employer in the long run. The purpose of this study is to investigate how the current work orientation for new sales agents at Viking Line can be improved. The results of the survey were used to provide suggestions for improvements to the client.
The theoretical framework consists of theories on learning and work orientation. Visual, kinaesthetic and auditory learning as well as the different phases of work orientation are discussed within the theoretical part of the study. The qualitative survey was based on 1-on-1 interviews. The interviews were semi-structured and divided into three thematic areas: work orientation on a general level, Viking Line's own work orientation and learning. The researcher interviewed nine sales agents. These inter- views were recorded and transcribed. The results indicate that the majority of the respondents were satisfied with the work orientation in its current state but that there is a need for a second assembly, after the initial introduction. This assembly would be intend- ed for questions and feedback. In addition, the respondents gave suggestions for improvement regarding the training assignments, the structure of the introduction days as well as the orientation for the Swedish market.
This study shows how difficult it is to satisfy the need of every new employee but that there is always room for improvement. Us- ing the results of this study the client can more easily identify the areas within the current work orientation that require improvement or development, thereby creating a comprehensive work orientation for new sales agents.
Kokoelmat