A study of the community‑based disaster preparedness in Kenyan rural communities
Karvinen, Ikali; Lejonqvist, Gun‑Britt; Kinnunen, Eija‑Riitta; Fredriksson, Marketta; Halonen, Riikka; Koski, Arja (2016)
---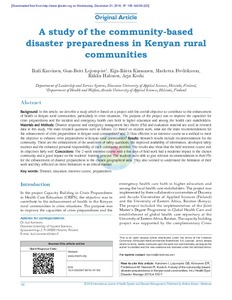 Karvinen, Ikali
Lejonqvist, Gun‑Britt
Kinnunen, Eija‑Riitta
Fredriksson, Marketta
Halonen, Riikka
Koski, Arja
Wolters Kluwer - Medknow Publications, Wolters Kluwer India Pvt. Ltd.
2016
Julkaisun pysyvä osoite on
http://urn.fi/URN:NBN:fi:amk-2016122121389
Lähdeviite:
Karvinen I., Lejonqvist G., Kinnunen E., Fredriksson M., Halonen R., Koski A., (2016). A study of the community‑based disaster preparedness in Kenyan rural communities. International Journal of Health System and Disaster Management (IJHSDM), 4(3), p. 102-107, Wolters Kluwer - Medknow Publications, Wolters Kluwer India Pvt. Ltd..
doi:10.4103/2347-9019.191103
Tiivistelmä
Background: In this article, we describe a study which is based on a project with the overall objective to contribute to the enhancement of health in Kenyan rural communities, particularly in crisis situations. The purpose of the project was to improve the capacities for crisis preparedness and the incident and emergency health care both in higher education and among the health care stakeholders.

Materials and Methods: Disaster response and emergency management fact sheets (FSs) and evaluation material are used as research data in this study. The main research questions were as follows: (1) Based on student work, what are the main recommendations for the enhancement of crisis preparedness in Kenyan rural communities? and 2) How effective is an intensive course as a method to meet the objective to enhance crisis preparedness in Kenyan rural communities?

Results: Research results include recommendations for the community. These are the enhancement of the awareness of safety questions, the improved availability of information, developed safety routines and the enhanced personal responsibility of each community member. The results also show that the held intensive course met its objectives fairly well.

Conclusions: The 2-week intensive course with a few days of field work had a moderate impact in the chosen community and a good impact on the students' learning process. The students were able to give relevant recommendations in their FSs for the enhancement of disaster preparedness in the chosen geographical area. They also seemed to understand the limitation of their work and they reflected on these limitations in an ethical manner.