Panel study of entrepreneurial intentions of higher education students
Joensuu-Salo, Sanna; Varamäki, Elina; Viljamaa, Anmari (2016)
---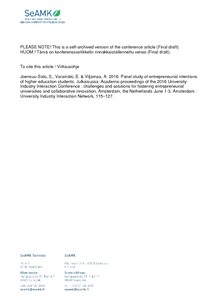 Joensuu-Salo, Sanna
Varamäki, Elina
Viljamaa, Anmari
University Industry Interaction Network
2016
Julkaisun pysyvä osoite on
http://urn.fi/URN:NBN:fi:amk-2017060712775
Lähdeviite:
Joensuu-Salo S., Varamäki E., Viljamaa A., (2016). Panel study of entrepreneurial intentions of higher education students. , University Industry Interaction Network.
URN:NBN:fi:amk-2017060712775
Tiivistelmä
Entrepreneurial intentions have been extensively researched among higher education students (e.g. Wang & Wong, 2004; Wu & Wu, 2008; Vrdoljak & Dulcic, 2011). The biggest research gap has been in longitu-dinal settings (e.g. Matlay & Carey, 2007; Fayolle & Liñán, 2013). The present study contributes to nar-rowing this gap by focusing on changes in entrepreneurial intentions during studies. The specific objec-tives are twofold: (1) to analyse the change in higher education students' entrepreneurial intentions from the first year of studies until graduation; and (2) to examine the effect of gender and entrepreneurship pedagogy on the development of entrepreneurial intentions.

The data used in the study comes from Finland. The population of our study is made of participants from five universities in six different study fields. The data was collected using a self-administered ques-tionnaire in 2009, and in 2011 and 2012. Thus, our data covers the whole study period from the first to the last year. For the analysis we accepted those individuals who had answered in at least two waves. In our data there are 62 individuals with responses from all three data collection waves and 149 individuals with two measurement waves. The change of entrepreneurial intentions was analyzed with linear regression.

The results show that entrepreneurial intentions decrease significantly during studies. With male students, the intentions do not decrease as severely as with female students. Female students start with a lower level of entrepreneurial intentions and their intentions develop more negatively than male students' inten-tions. Students who participated in entrepreneurial courses with active modes of teaching had higher values of entrepreneurial intentions in the beginning than other students. However, both groups show a negative development in entrepreneurial intentions. Linear regression analysis shows that the changes in perceived behavioral control, in entrepreneurial attitudes and in subjective norm have an effect on the development of intentions. Also gender has an effect on the development. The most significant variable in the model is the change in perceived behavioral control followed by the change in attitudes.

Keywords
Entrepreneurial intentions, higher education students, longitudinal research, Theory of Planned Behavior, entrepreneurship pedagogy.
Kokoelmat