e-Hälsotjänster för missbrukare : En litteraturstudie
Juslin, Anne-Sophie (2017)
---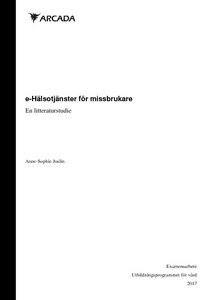 Yrkeshögskolan Arcada
2017
All rights reserved
Julkaisun pysyvä osoite on
https://urn.fi/URN:NBN:fi:amk-2017060712710
Tiivistelmä
Syftet med det här arbetet är att ta reda på vilka e-hälsotjänster som erbjuds åt missbrukare globalt idag och vilka krav som ställs på dessa tjänster. Studien svarar på vilka fördelar det finns med e-hälsa, hurdant behovet är samt vilka begränsningar det finns inom vården och hos individen. Det här arbetet är en litteraturstudie som baserar sig på 8 artiklar. De artiklar som används i den här studien har analyserats med kvalitativ innehållsanalys varefter de tolkats utgående från Dorothea Orems teori om egenomsorg. Resultatet av analysen och tolkningen presenteras i huvudkategorierna vårdformer i missbrukarvården, e-Hälsa i missbrukarvården och begränsningar i missbrukarvården.
Sammanfattningsvis berättar resultatet att det redan finns en del tjänster som är specifikt utvecklade för missbrukare, men i traditionell form. e-Hälsotjänsterna som erbjuds just nu är få till antalet och kraven som ställs på dem är stora. Ekonomiska begränsningar finns inom vården och hos individen finns det en rädsla för stigmat kring stämpeln man får vid psykiatrisk sjukvård. Slutligen konstateras det att fortsatt forskning behövs för att öka acceptansen för nya tjänster vilket leder till lättare implementering.
Det här arbetet är gjort på beställning av yrkeshögskolan Arcada.
The aim of this study is to find out what kind of e-health services are offered to addicts globally today and what the requirements are for the services. The study answers which advantages e-health has, what kind of needs there are and the limitations in healthcare and in the individual. The study is a literature analysis and is based on 8 articles. The articles used were first analyzed with a qualitative content analysis where after they were interpreted with the Self-Care Theory by Dorothea Orem. The result of the analysis and the interpretation are presented in the main categories healthcare practices in addiction treatment, e-Health in addiction treatment and limitations in addiction treatment.
A summary of the result is that there already are some services that are specifically designed for addicts, but mostly in the traditional way. e-Health services that are offered at the moment are few in number and the requirements are tough. There are economical limitations in health care and there is a fear for the stigma around psychiatric care inside the individual. Finally, the study shows that there is still a need for further research to heighten the acceptance for new services which then lead to easier implementations.
This thesis is commissioned by the university of applied sciences Arcada.
Kokoelmat